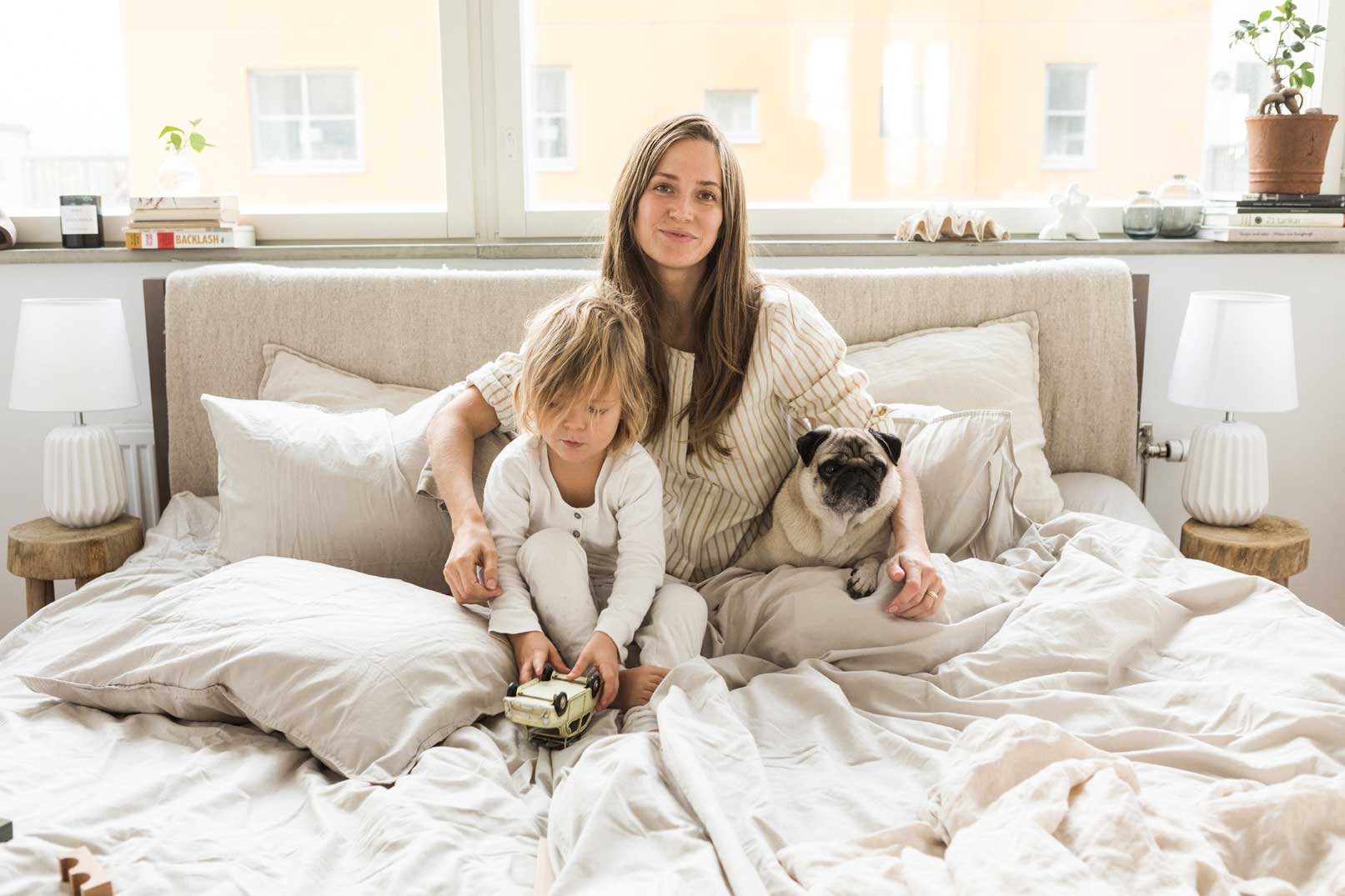 Emma Elwin is the Swedish stylist who has become the face of sustainable fashion and lifestyle in Scandinavia. Thanks to her blog and platform Make it last she constantly inspires us with her timeless aesthetics and thoughtful texts to do wiser, greener choices without sacrificing style.
Her home is no exception. On the way out to the Stockholm archipelago, just before the mainland splits into smaller islands, she lives with her husband André, son Dylan and pug Stella in an old factory building that used to produce porcelain in the '30s. In true reuse-spirit the building now hosts apartments.
We entered their serene morning when the brightness flowed through the loft-windows and talked about sleep-inducing tea, toxics in bedrooms and pillow arrangements.
Tuesday evenings end at:
Like every other night – too late. The evenings are so precious since we had Dylan, it's the only time of the day when we can just be completely useless and watch something stupid or fun to wind down. I think that's why we always watch tv and drink loads of tea before going to bed.
Before turning off the lights:
I drink a glass of water, put my hair up in a high bun. Since I'm always in bed so late that's all I have time for.
I sleep in:
A cotton nightgown, this one is from my grandmother and the cotton is so beautiful and the little embroideries are like art.
I share bed with:
My husband and our dog Stella and sometime Dylan joins us around 2 am to kick us all in the head for the rest of the night.
On my nightstand:
My phone and a lamp.
My best tip for a good night's sleep:
Night-herb tea, chamomile is my favorite.
Keeps me awake:
A good book or series like the Crown or Poirot. I'm very much into stories that play out in the early 20th century.
My version of counting sheep:
Brooklyn Nine-Nine, which is so strange since it's a show with some of the loudest American actors/comedians I know. But it works every time so I do not question it.
My best midnight snack:
Kale in the oven with loads of olive oil, I just can't get enough. Sometimes I eat two full batches.
I last dreamt about:
Cleaning – which I guess is what you dream about when you live with a dog and a kid. Hair and toys everywhere.
My evening beauty routine:
Every night is different, I'm not good with routines.
Favorite bedroom feature:
The high ceiling and all the weird angles!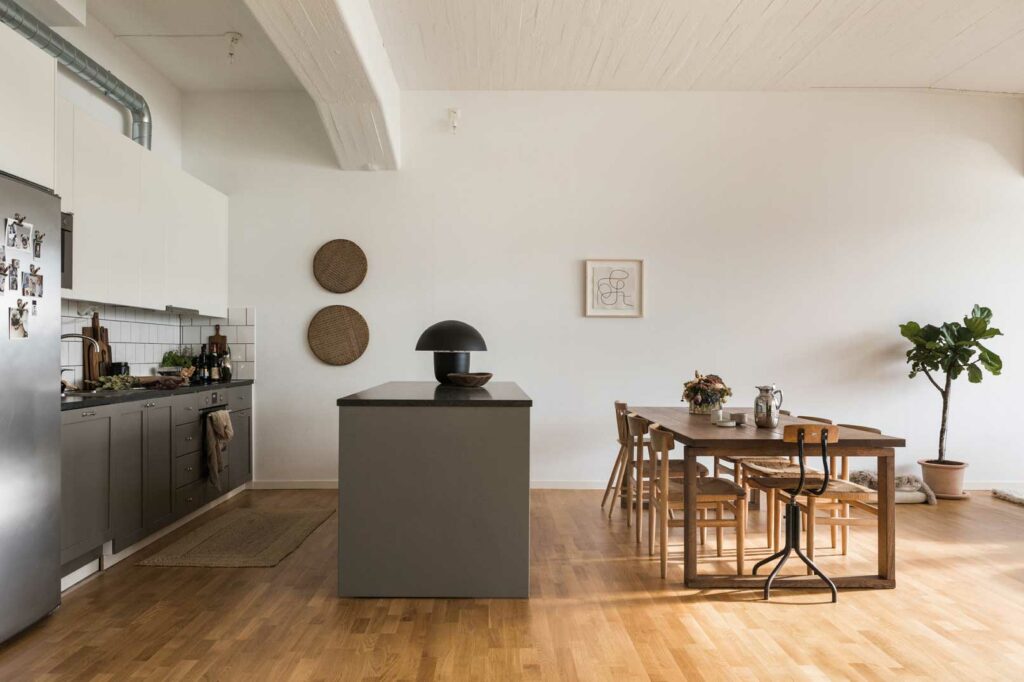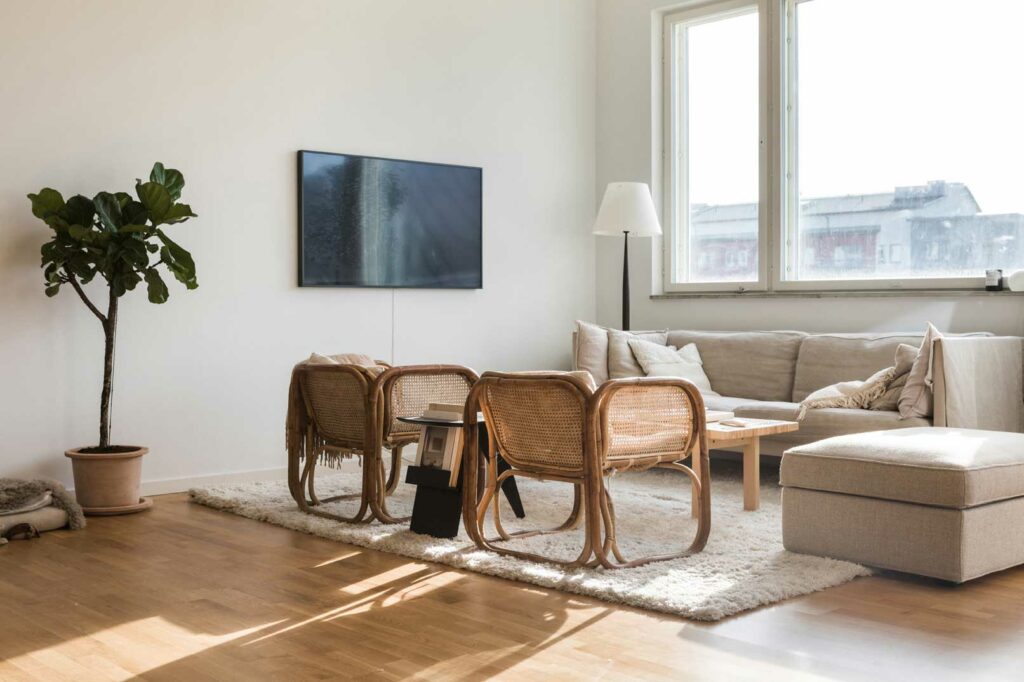 Wednesday morning starts:
At 6:30 Stella jumping all over wanting food.
My alarm sounds like:
Horrible.
The first thing I see:
My dog jumping of excitement for breakfast.
My morning mood:
Need. Coffee. Now.
Everyday breakfast:
Coffee and water.
Birthday breakfast:
Princess Cake (the most traditional Swedish birthday cake), coffee and candles. What more could a girl wish for?
A dreamy weekend morning:
A sleep-in until nine and then followed by reading the paper cover to cover.
Morning beauty routine:
Brushing my hair, eyelash curler and rouge.
My do's and don'ts when making the bed:
Pillows must be arranged according to size, the biggest ones in the back and small ones in the front.
Also, we just have to ask – since you're a role model when it comes to sustainability – which are your best tips to get rid of poisons in our homes?
Try to find a bed made of natural untreated materials – I love Prolana. Norrgavel is a great choice for sofas and armchairs and I also find that I prefer to buy untreated wood to minimize the risk of any toxics entering our home.
Text by Antonia af Petersens
Photo by Mikael Lundblad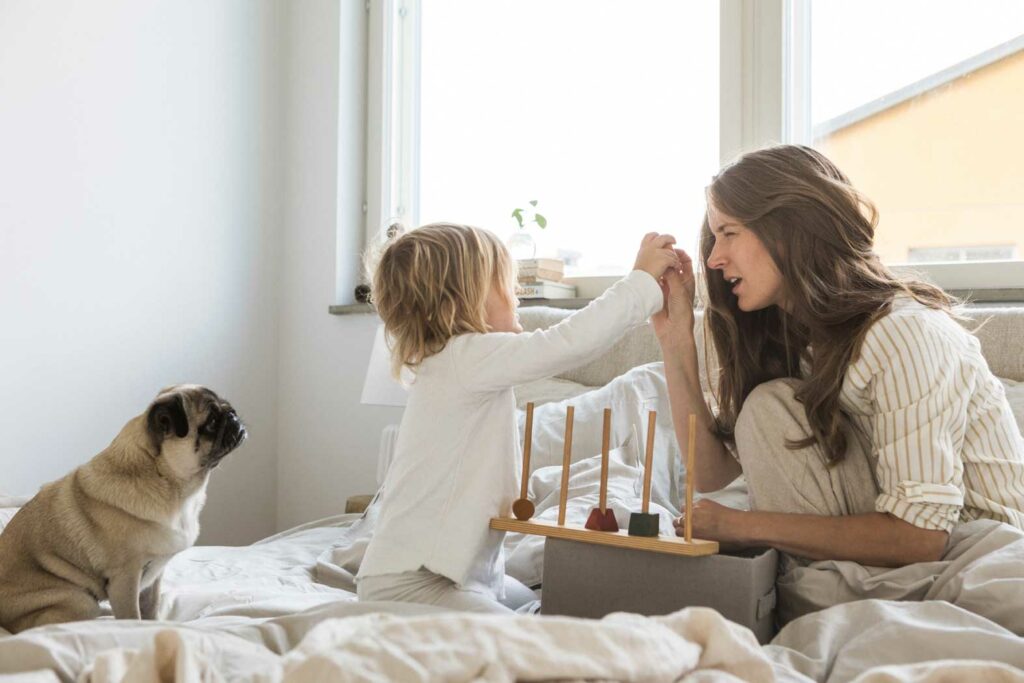 Shop the look