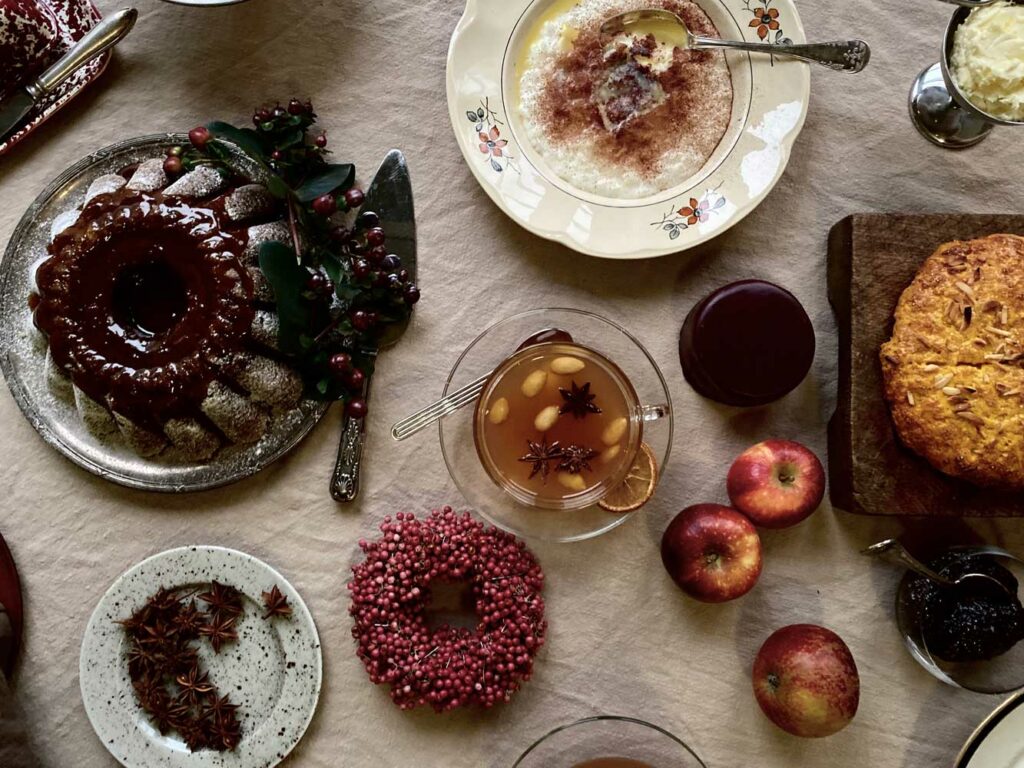 Breakfasts For The Holidays
On dark winter mornings when there's an icy nip in the air, you can't beat a Christmas brekkie buffet of treats. This advent, we want to wake up softly by sipping warm, spiced cider while the kitchen smells of freshly baked delicacies and creamy porridge simmers at the stove. We once again teamed up with Micis and Clara Öhrn behind @The_Mangiagram to come up with modernized versions on classic Christmas holiday recipes that will keep everyone happy and keep asking for more.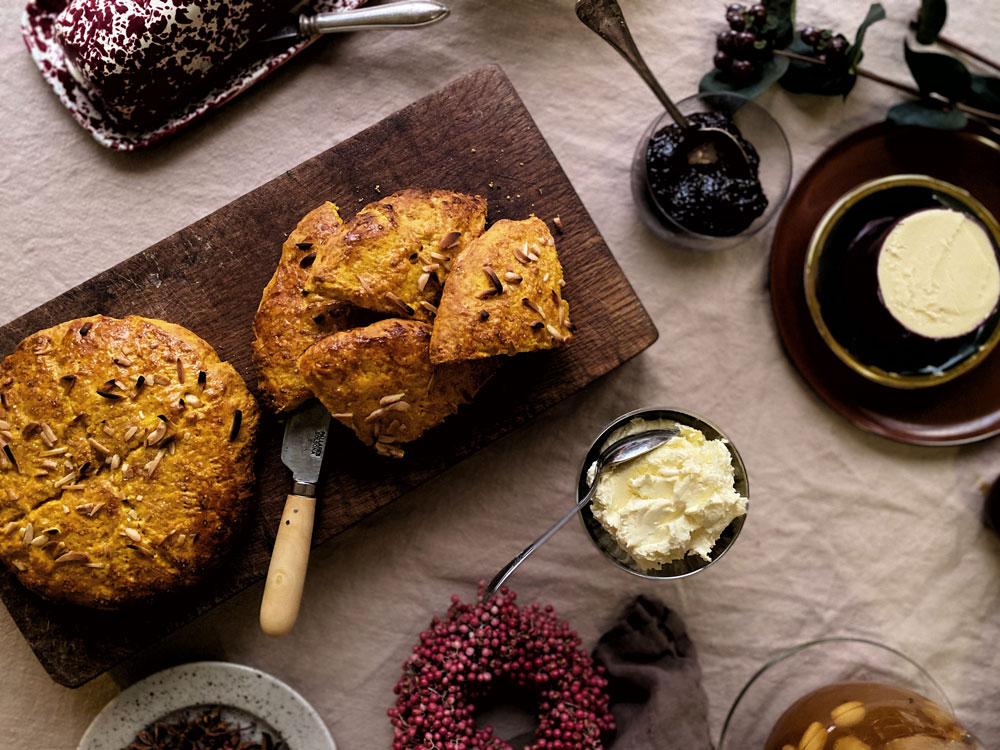 Saffron Scones with Clotted Cream & Blackberry Marmalade
"Saffron scones are just as delicious as they sound. You get the traditional scone, perfect in its plainness, but also the Christmas vibe thanks to the hint of sweet, golden saffron. The best of both worlds."
Scones
Ingredients, serves 4
2 dl milk
1 g saffron
7,5 dl flour
0,5 tsp salt
1,5 tsp of baking powder
0,5 dl unrefined sugar
125 g butter
1 egg
Egg, flaked almonds and unrefined sugar for topping
Preparation
Set your oven to 250 degrees celsius. Bring milk and saffron to a boil and let cool. Combine flour, baking powder, salt and sugar in a big bowl. Cut the butter into smaller pieces and combine with the dry ingredients. Add egg and milk and combine to a batter. Divide the dough into two rounds and place on a baking sheet. Brush the dough with a beaten egg and top with unrefined sugar and almonds. Bake for about 10 minutes.
Clotted Cream
Ingredients
5 dl whole cream
Preparation
Pour cream into an oven safe dish. Set the oven to 80 degrees celsius. Bake cream for 12 hours. Take out the cream and let cool in the refrigerator for another 8 hours or until the clotted cream is completely cool. Separate the thick cream from the liquid at the bottom of the dish. Gently stir the thick cream until texture is smooth. Serve with scones and blackberry marmalade.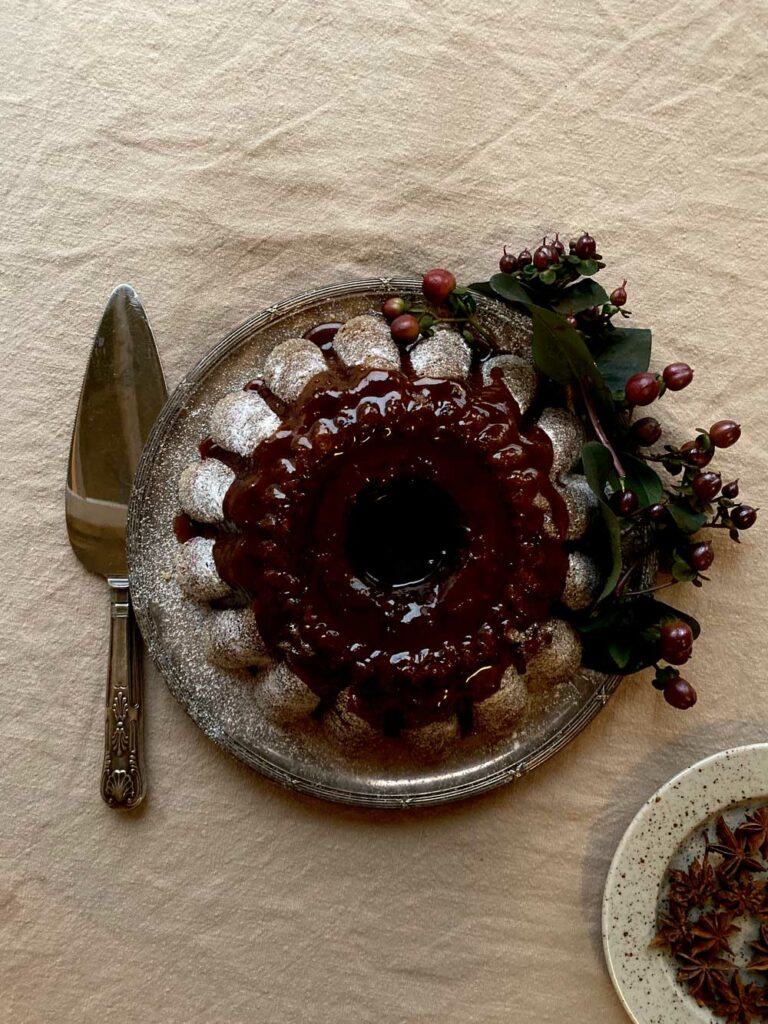 Soft Gingerbread with Orange Caramel Sauce
"Pair this soft gingerbread cake with a caramel sauce flavored with orange juice and zest and you're good to go. Well… almost. It's a dilemma that this cake is almost too dazzling to devour. If it's any consolation, the left-overs tend to be even juicier the day after so you can enjoy this cake for a couple of days if stored properly."
Soft Gingerbread
Ingredients
100 g butter
1,2 dl sour cream
2 eggs
2 dl sugar
2 tsp cinnamon
2 tsp ground cloves
2 tsp ground ginger
3 dl flour
1 tsp of baking soda
Preparations
Set the oven to 175 degrees celsius. Melt butter add sour cream and let cool. Combine sugar and eggs and whisk until mixture is white and fluffy. Add the butter and sour cream. Combine the dry ingredients and add to the mixture. Prepare a baking tin with butter and breadcrumbs. Add the batter and bake in the oven for about 45 min. Let cool.
Orange Caramel
Ingredients
2 dl sugar
2 dl whole cream
100 g butter
1 large orange, zest and juice
Preparations
Put a medium saucepan on medium heat. Add sugar evenly and let sit until sugar has turned into caramel. Do not whisk. Add orange zest and juice. Pour in cream and let simmer for 2 minutes. Turn off the heat and let cool for a bit. Add butter and whisk until the butter has melted and is evenly combined in the sauce. Pour the caramel sauce over the cake.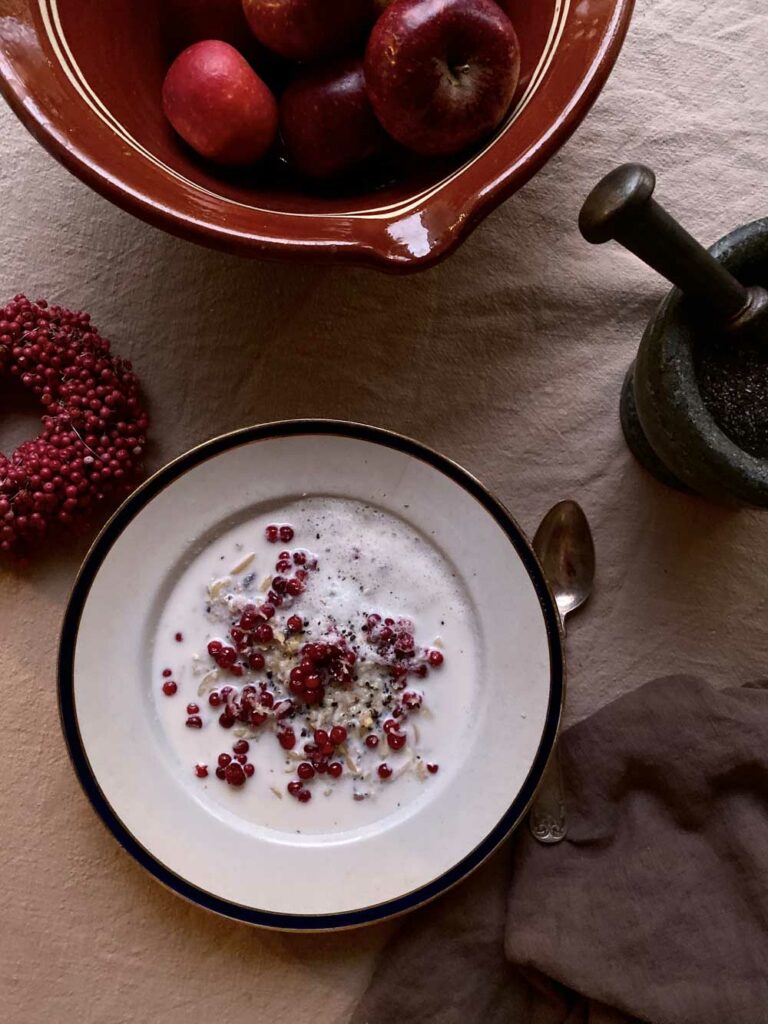 Oatmeal with Lingonberries, Almonds & Cardamom
"This oatmeal is easy enough to cook on stressful winter weekdays – but festive enough to make it feel like Christmas. You can even prepare the dry ingredients the night before and just add water, boil it and add toppings in the morning."
Ingredients, serves 2
3 dl rolled oats
1 tsp salt
6 dl water / milk
1 tbsp dried cranberries
1 tbsp cardamom seeds
1 dl lingonberry sauce
2 tbsp almond paste
1 tbsp chopped almonds
Milk of your choice
Preparations
Combine water, oats, salt, cranberries and freshly ground cardamom. Bring to a boil and let simmer for about ten minutes. Pour the oatmeal into two bowls. Top with grated almond paste, roasted chopped almonds, lingonberry sauce and some extra ground cardamom. Serve with heated milk of your choice.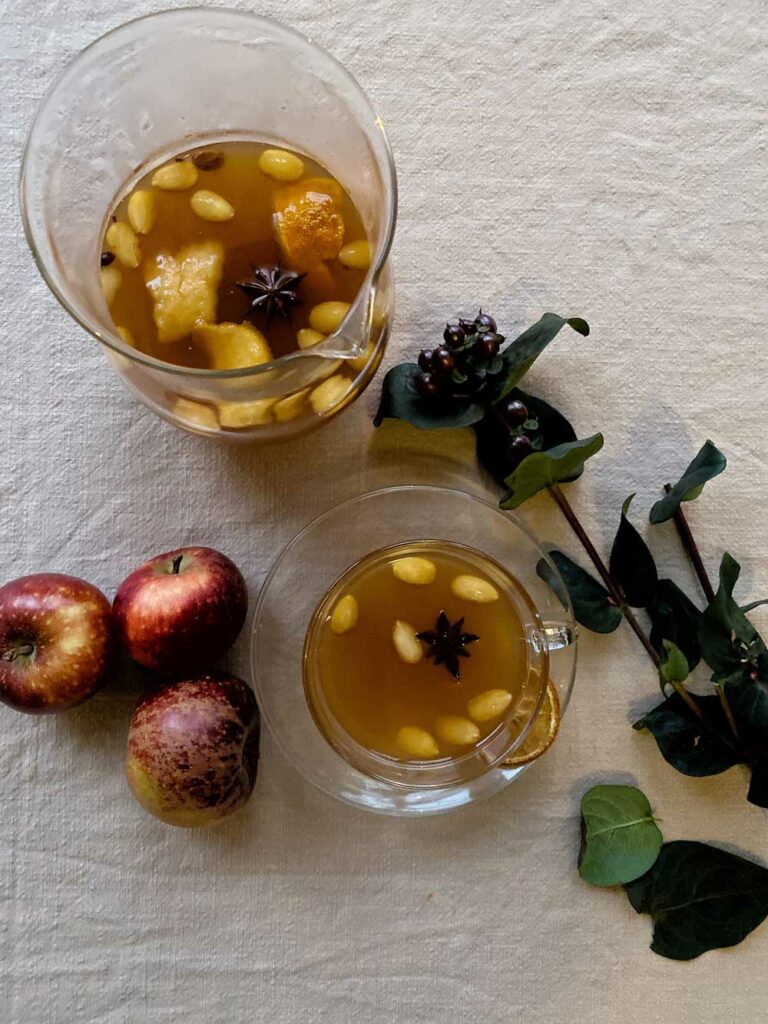 Warm Apple Cider with Christmas spices
"If fresh juice is part of your breakfast menu normally, you have to try this warm, spice-infused cider. This comforting winter drink is aromatic and anise, cinnamon, cardamom, and ginger make the home smell seasonal. Christmas. Is. On."
Ingredients, serves 4
1 l unsweetened apple juice
3 star anise
1 whole cinnamon
1 tbsp whole cardamom
1 5 cm piece of fresh ginger
3 pieces of Seville orange
1 dl sugar (or to taste)
Preparations
Combine all ingredients in a large saucepan. Let simmer for at least one hour until the spices has infused the apple juice.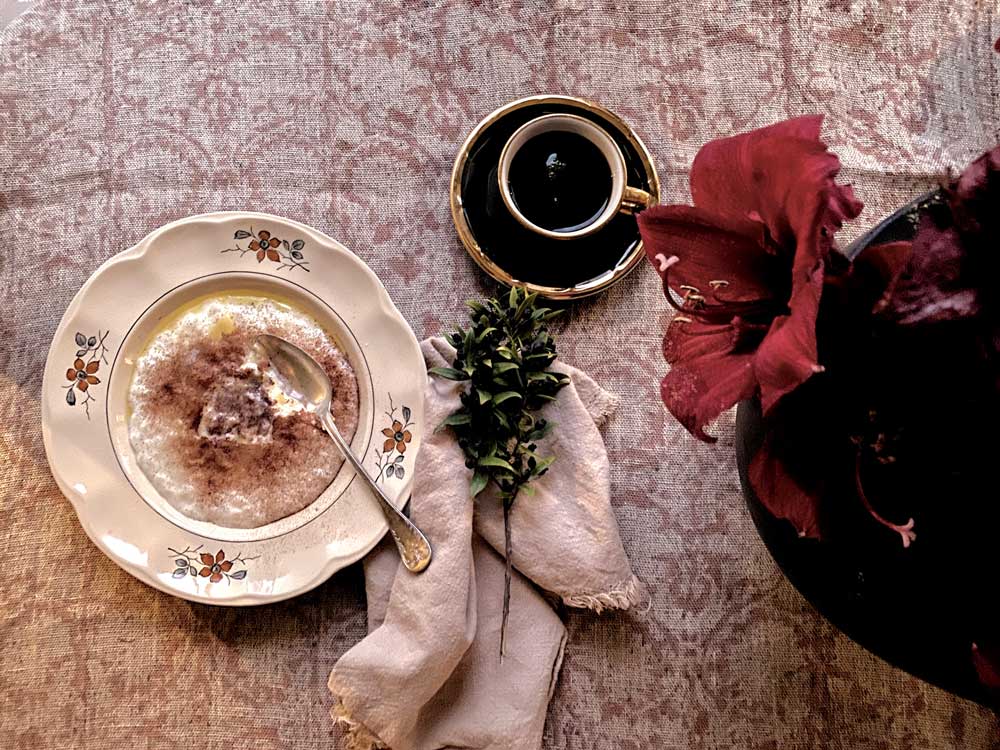 Creamy Rice Pudding served with Cinnamon & Butter
"No Christmas without rice porridge. Keep it simple and stick to a traditional recipe but add a click of butter just before serving – it melts and adds a hint of silky, buttery saltiness to each bite."
Ingredients, serves 6
2,5 dl round grain rice
5 dl water
8 dl whole milk
1 whole cinnamon
1 tbsp sugar
0,5 tsp salt
ground cinnamon
2 tbsp butter
Preparations
Bring water, rice and salt to boil. Let simmer for about 10 min. Add milk and cinnamon and let the porridge simmer on very low heat for about 30-40 min. Add more milk if desired and sugar to taste. Serve with butter and ground cinnamon.
Recipes by Micis & Clara Öhrn
Images by Josephine Blix