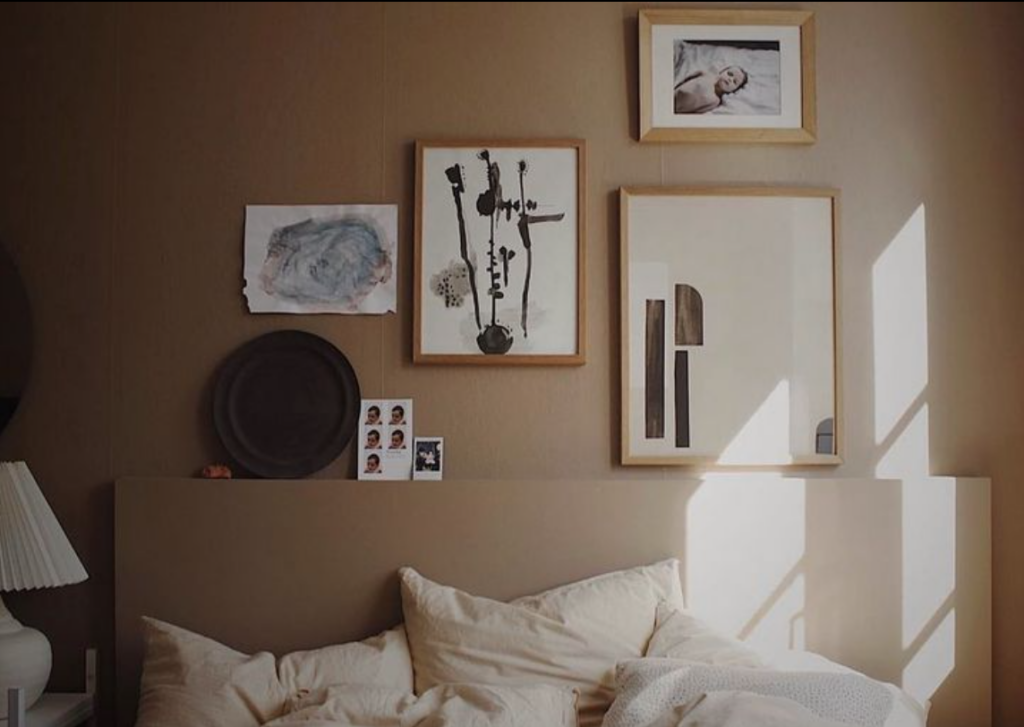 Are you looking for a headboard that can perfectly complement your bedroom? Building a headboard is one of the easiest DIY projects you can take on. A built-in solution is also a perfect opportunity to get a practical headboard with built-in storage in the bedroom. Instead of buying something new, making the headboard yourself is cheaper and often more pretty. In this month's list, the Midnatt team lists the best DYI headboards we could come across, as always, with inspiration from our customers. So here they come, our (and yours) best tips and ideas for headboards you make yourself with fabric, wood, and paint.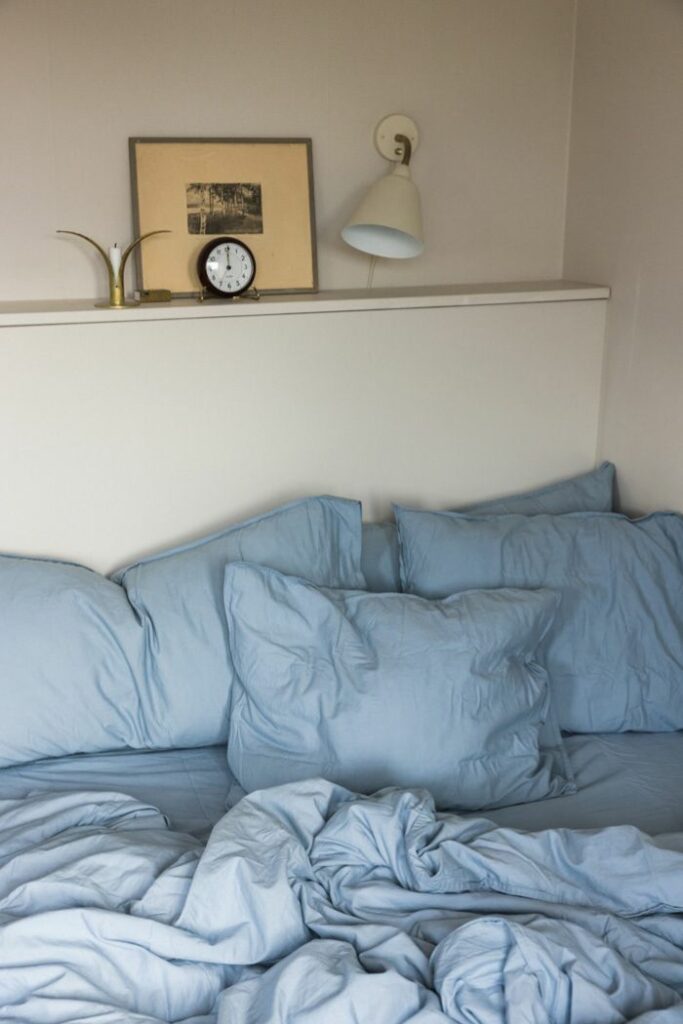 1. Josefine Halfwordsson, the founder of Tônn Furniture, is an expert in small, simple solutions that make all the difference to a room. A basic homemade MDF headboard like this is both stylish and functional. Since the headboard also functions as a bedside table, it fits perfectly in a small bedroom with limited floor space.
2 & 3. In the home of stylist and Midnatt ambassador Ida Lauga, we find another variation on the DIY headboard with a built-in shelf. This one is even thinner and works well as a shelf for bedroom art. This little interior hack allows you to change the art based on your mood without having to make new nail holes in the wall.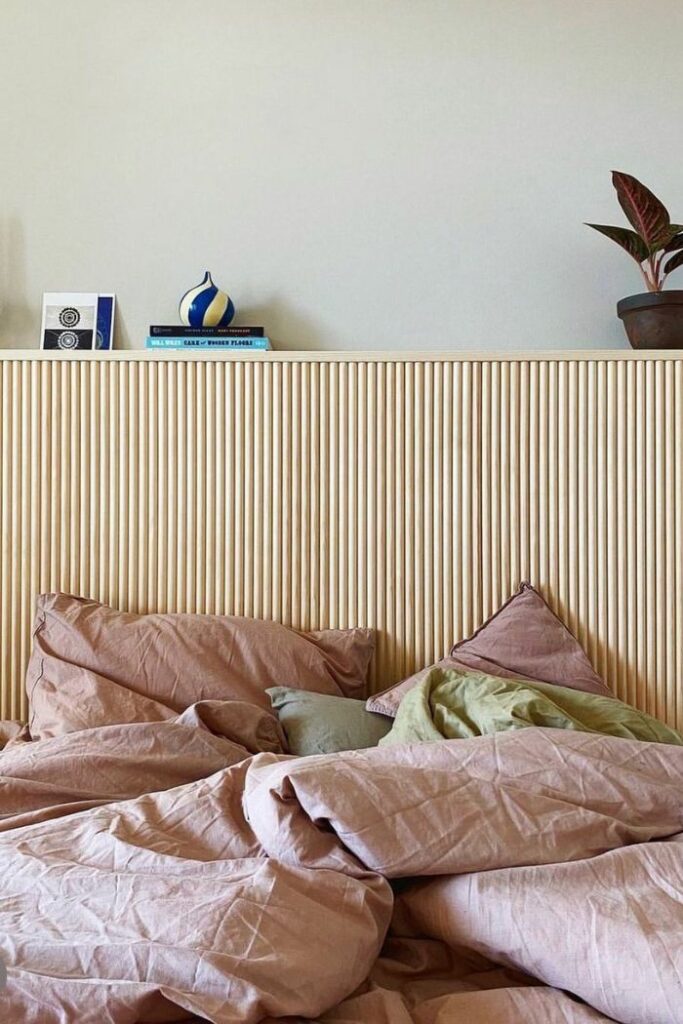 4. Finnish concept designer Heidi Valkola has built a super-stylish combined headboard and shelf and then covered it with round beading. We love the panel feel!
5. German color and decor influencer Swantje Hinrichsen has another great example of a homemade headboard with a shelf.
6. Johanne Landebo, behind the Instagram account @femte.til.venstre is renovating a 70s house in northern Denmark. Here she creates the feeling of a headboard by painting the wall behind in two different colors and putting a contrasting wall molding where the colors meet on the wall. Nice!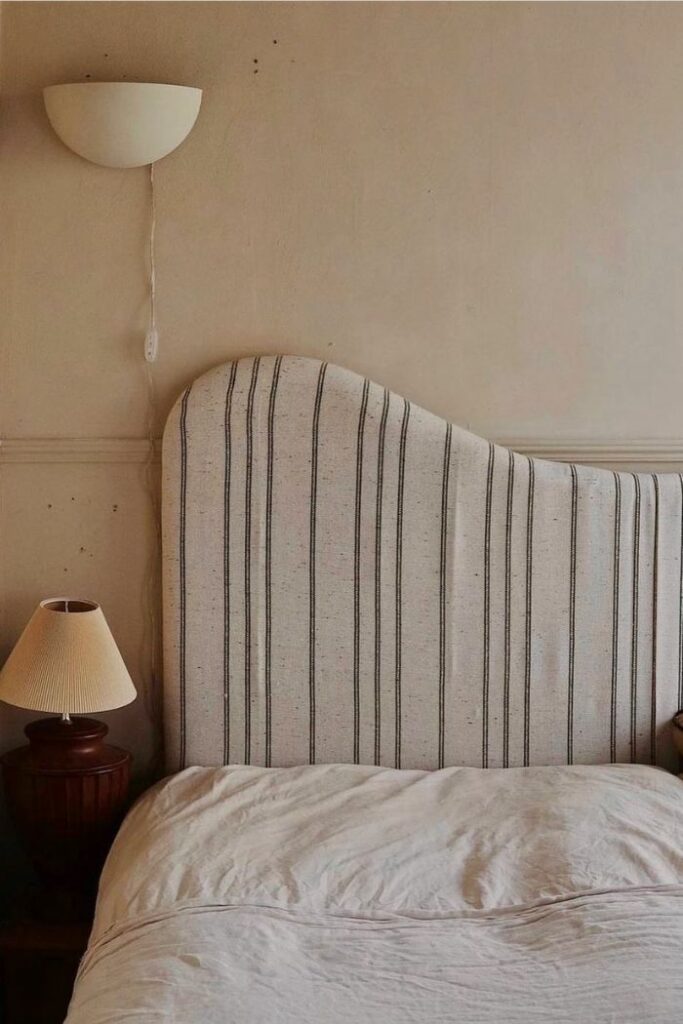 7 & 8. You can choose the shapes you want when drawing and sawing your MDF board, which is the base of an upholstered headboard. The stylist Soraya Forsberg who made this beautiful headboard, always offers tons of inspiration about what you can create yourself if you are creative enough. Looking at her Instagram feed, you can see how the headboard and the room change and develop over time.
9. With a penchant for southern European backyards and English bathroom china, Emelie and Magnus are renovating a brick villa from 1910. In their bedroom, we see another example of an upholstered headboard with a unique shape. So, grab the jigsaw and create something similar! Look for inspiration at @foreningsgatan14, hotels in the south of France, and B&Bs in the English countryside.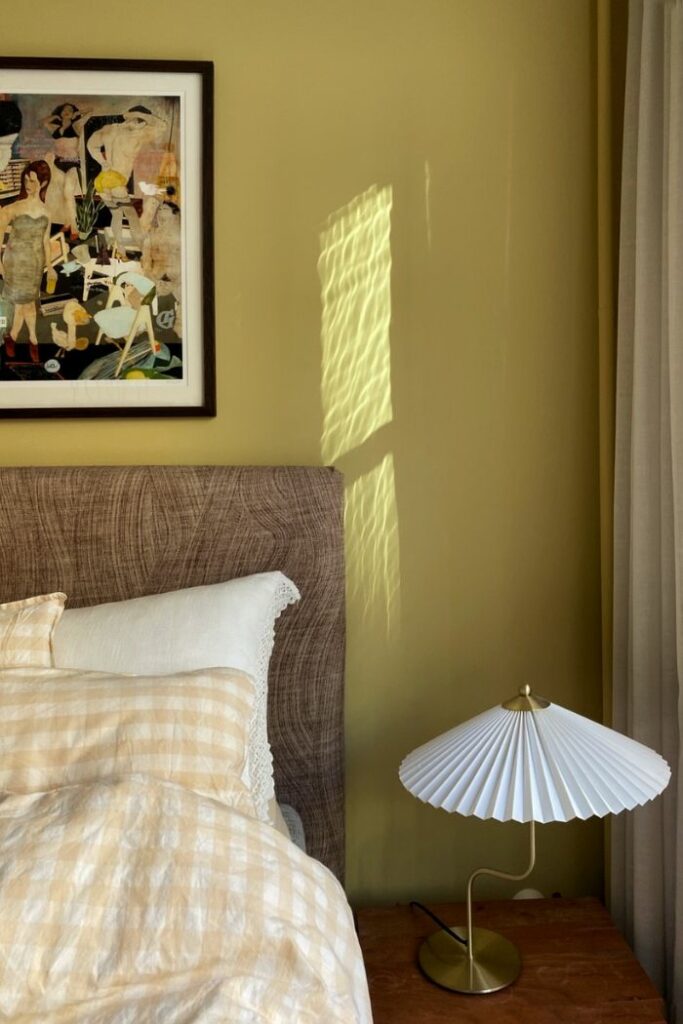 10. In our co-founder Louisa Hammarbäck's bedroom, we find another example of how a beautiful fabric can inspire you to create a personal and expressive headboard. She found a headboard secondhand (it certainly didn't look like this at the time), but a lovely fabric and a hard-working staple gun later; the result is eye-catching.
11. The easiest way to create the feeling of a headboard is to nail a piece of fabric to the wall. This is a styled image. In reality, the material probably needs more reinforcement around the nails, but it's easily fixed. Hanging fabric along the wall towards the bed was common in the past to insulate and protect the border. In addition to that, the vibe is very cozy.
12. When photographer Charlie Drevstam and Maja Blix decorated the guest house at Österlen, they took inspiration from Midnatt's bedding color, Lake. The bed is, of course, made with that exact bedding, and the floor now has a similar ncs-code. To complete the look, they capture the feeling of a perfectly matching headboard with a bath towel in the same blue color above the bed. Brilliant! Do we need to say that the guest house now goes by the nickname Lake House?
Shop the look