Choosing a wall color for the bedroom is not easy, not least because there are so many great options. A bright and bouncy pink or a dark and embracing green? In February's 'The list,' we have collected a series of calming bedrooms with the wall color in focus, as usual, with inspiration from our stylish customers. Time for a new wall color in the bedroom during 2023? Here's the list you've been waiting for: Best wall colors of 2023.
Dark walls give the bedroom a nice cozy feeling. Gray shades are always restful and go well with most accent colors. Darker shades that subtly change towards green or blue wall color in your bedroom are also perfect if you (like us) like colorful bedding. (1.) Here, the art print company Wall of art styled a bedroom with an ideal gray-blue shade. (2.) While the florist Anna Wedin, who is behind the letterbox flower company Florescent, has chosen a musty green wall color in her bedroom, letting the bedroom bouquet stand for the color splendor. (3.) Alexandra Arvidson dares an intense shade of green-blue. Peak cozy. We love it!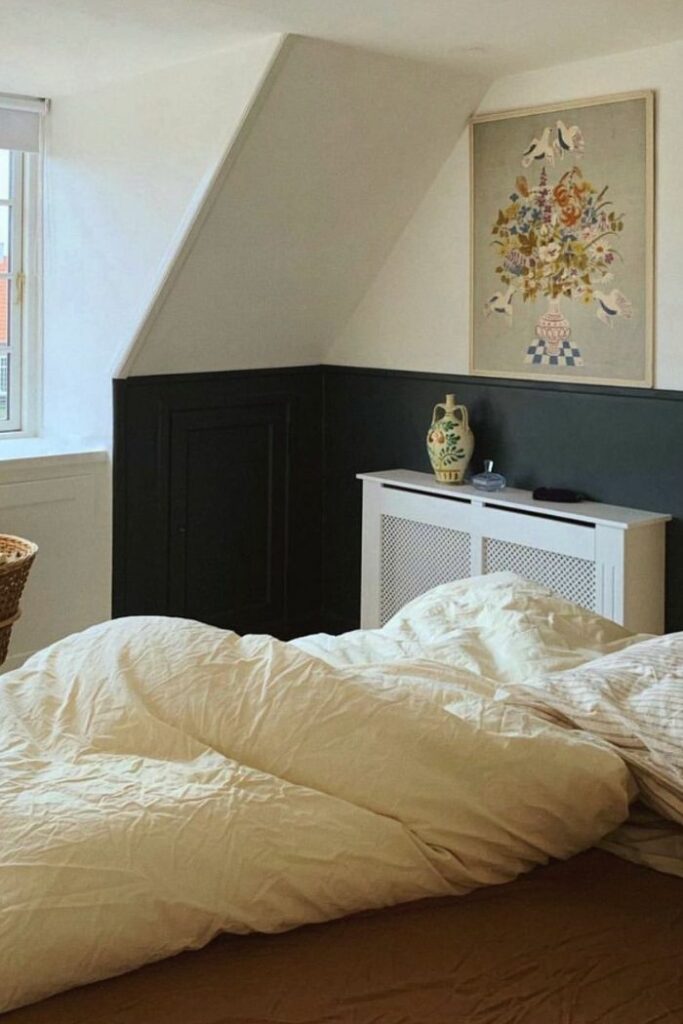 Two excellent examples of how you can paint your bedroom with low ceilings but still want to play with color. A waist-high panel and joinery in a deep color tone give the room a lovely feel without it getting too dark. (4.) Danish Johanne Landbo, behind the Instagram account @femte.til.venstre has chosen a dark blue panel. (5.) Rachel and Axel (read a feature with them here) have mixed and painted their carpentry in a beautiful red shade typical of the 18th century to go with the original house.
(6.) A blue wall color brings harmony to any bedroom. The research also points out that we sleep best with the color blue. Choose freely from the entire range from thundercloud navy to light sky blue. Vilma, @vilmarosas, nails the heavenly tone, and how beautiful is it paired with our dusty pink color Wilted?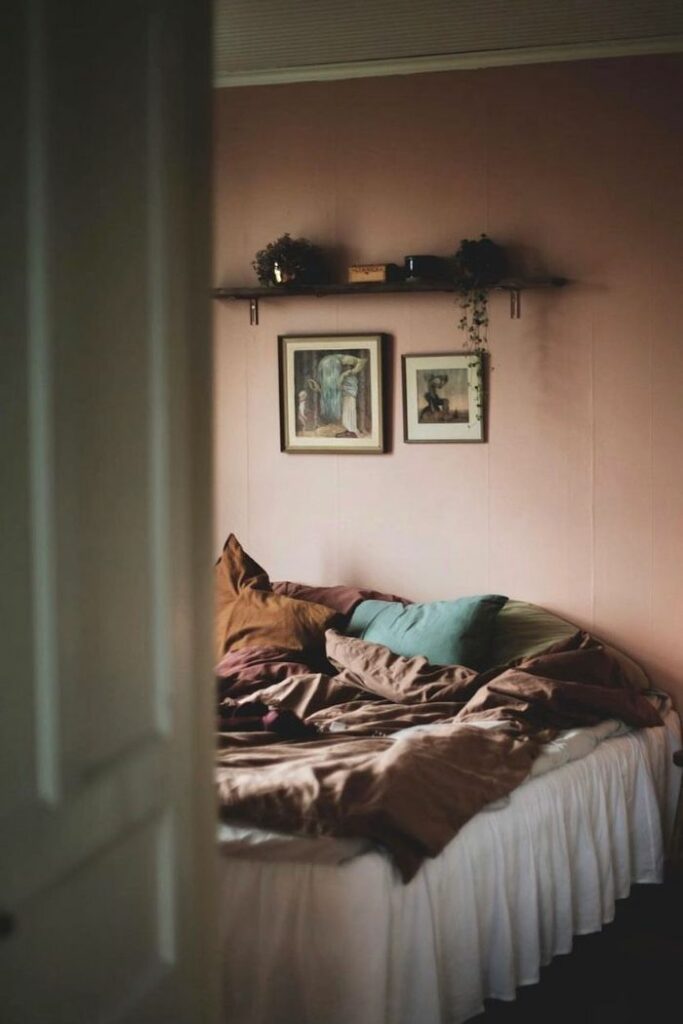 Speaking of pink. We have always dreamed of pink bedrooms. Rich dusty pink, bright and bouncy, or a calm shade with a lot of yellow pigment – The right nuance of pink can be restful and colorful simultaneously. Pink is also easy to combine with many other colors, for example, an excellent base for the entire Midnatt range. (7.) Linnéa, whose idyllic life in the country you can follow @bettnahuset, has opted for a brown-pink version with a lot of character. (8.) Artist Siri Carlén matches our olive green bedding with a light bubblegum pink that we love! (9.) Stylist Elin Wallin, @studioelwa, uses a pale old rose as a base for her dreamy bedroom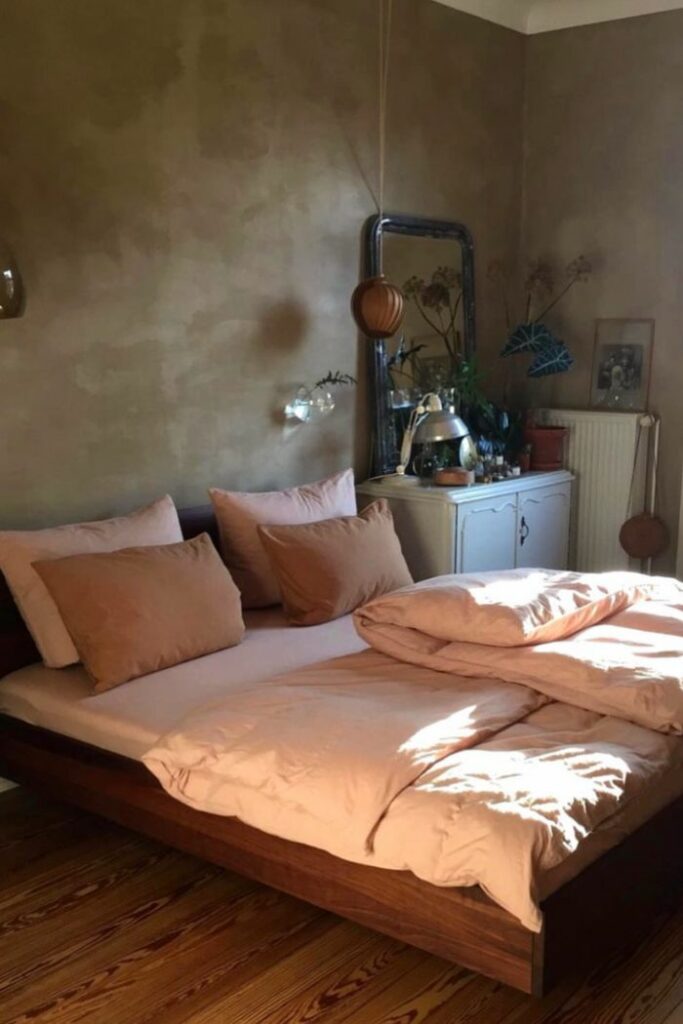 Painting with chalk paint or plastering the walls with micro cement is a nice alternative to create lively walls and give the bedroom character without going wild with color. It makes that perfect Mediterranean vibe and a beautiful rustic feel from a bygone era. (10.) German @ponyundbart matches their chalk walls with lots of big green plants, (11.) while @smetiwish keeps it arty.
Do you dare? Of course, you do. Waking up in a bedroom with bright yellow walls must be like waking up in the sunshine daily. Stylish design furniture looks extra lovely here, and of course, some of Midnatt's most daring color choices regarding bedding. (12.) The color inspiration Melanie behind the Instagram account @nuhtrop.m does it really well!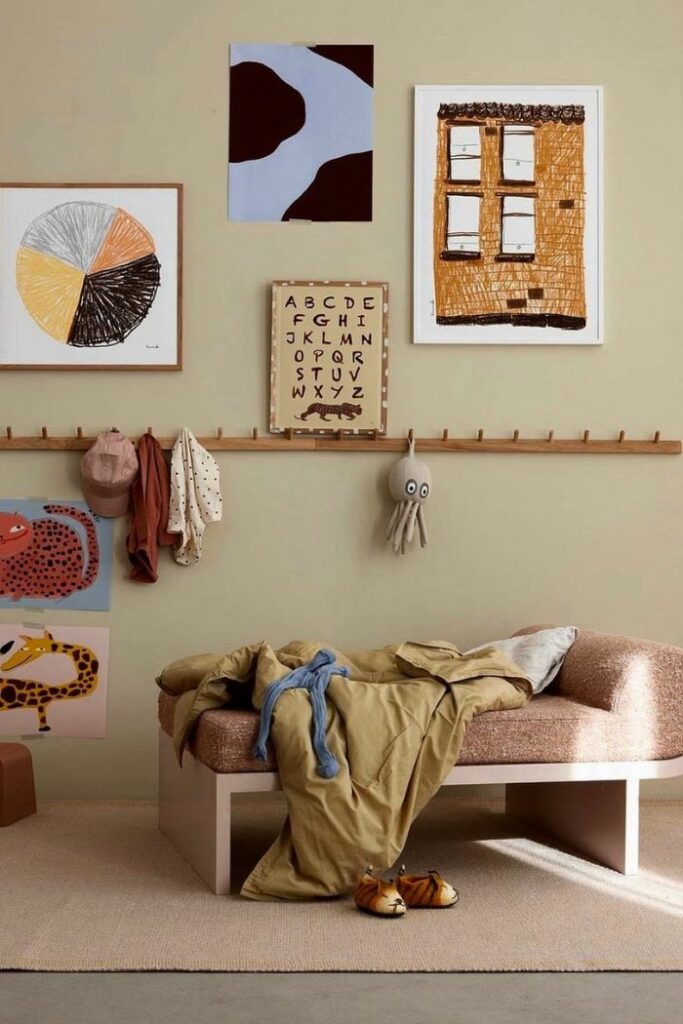 Mmm, green is the symbol of nature, and according to feng shui, green color also stands for renewal and new energy. Green fits in most rooms, but a warm green color in the bedroom is especially appropriate because it creates a restful place for recovery. Here are two similar shades of green in two completely different bedrooms. (13. & 14.) It works just as well in Wall of Art's modern children's room as in the 20s apartment with characteristic stucco, don't you think? (15.) Digital creator Hannah Persson, @hannahperssons, also has a beautiful shade of green in her bedroom. It navigates a little more towards blue, making it optimal to match our bedding in the color Siesta!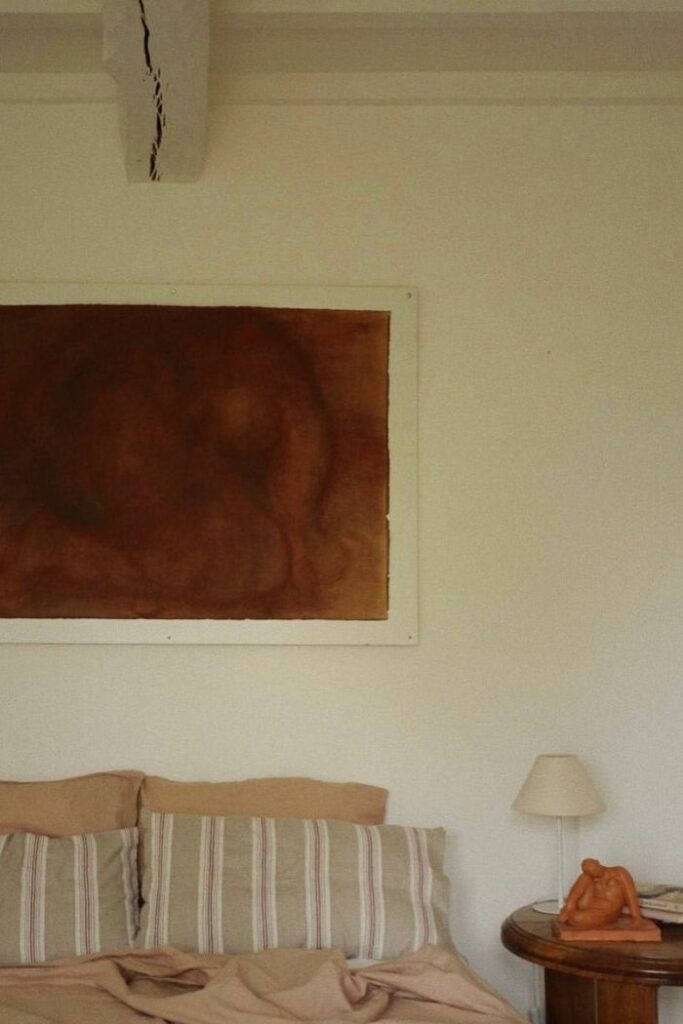 And so we have white, the absence of color. It is often perceived as harmonious and free of impressions, but for a white room not to feel stiff and cold, it is crucial to mix in warm details, preferably in earthy colors and wood. (16.) In the home of stylist Ida Lauga's in-laws in the French countryside, the perfect balance has been found. (17.) Katrine Marie Laoru, @_laoru_ has created the same lovely vibe without the French countryside as a backdrop. (18.) But you don't have to have a romantic setting to make white feel at home. Have a glance, photographer @mia_loves_things way to soften up the white with pastel shades and modern shapes.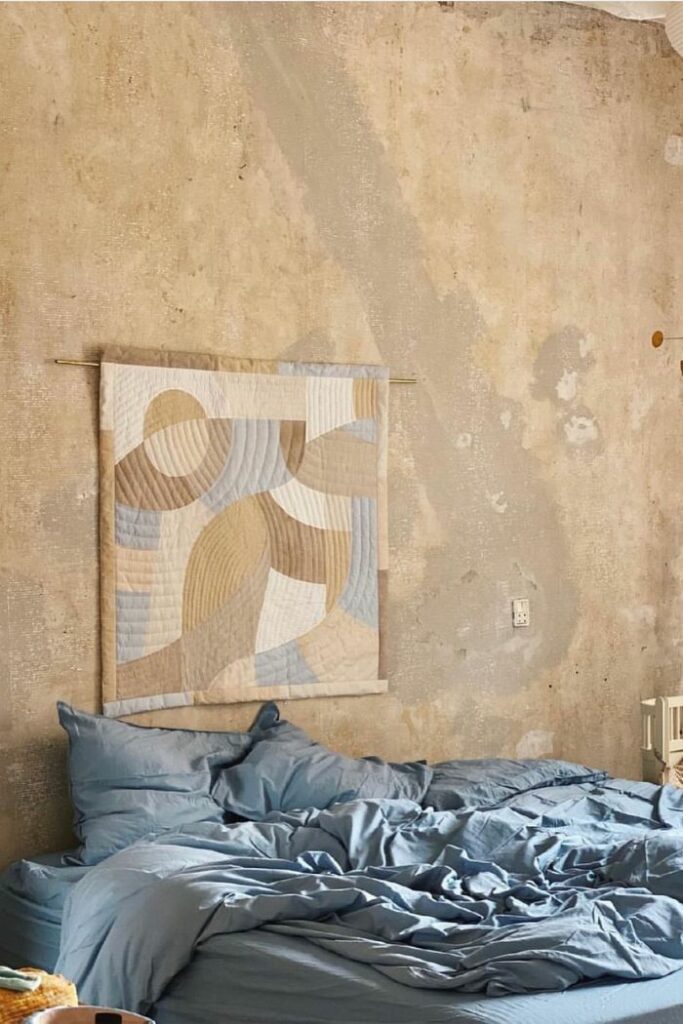 Contrasts create the feeling! (19.) In Julie Wittrup Pladsbjerg's, @juliewp, previous bedroom, she left the walls completely raw. In order to achieve that wall look, you obviously have to have some good luck – who knows what lurks behind that old wallpaper or layers of paint? Completely raw walls also make the bed look, if possible, even more inviting with its soft textiles and fluffy duvets.
You can't go wrong with neutral beige walls in your bedroom. A safe choice, but greige offers a subtly multifaceted color scale that creates cozy rooms with a soft appearance that is also easy to decorate. You get an extra soft and cozy feeling if you paint the ceiling and walls with the same color in your bedroom. (20.) We love the setting of the paint company Alcro's bedroom, which matches its khaki-beige tone with our bedding in color Dromedary. With its subtle wall color, (21.) Elsa Billgren's Gotland bedroom qualifies as one of the dreamiest summer nap spaces, right?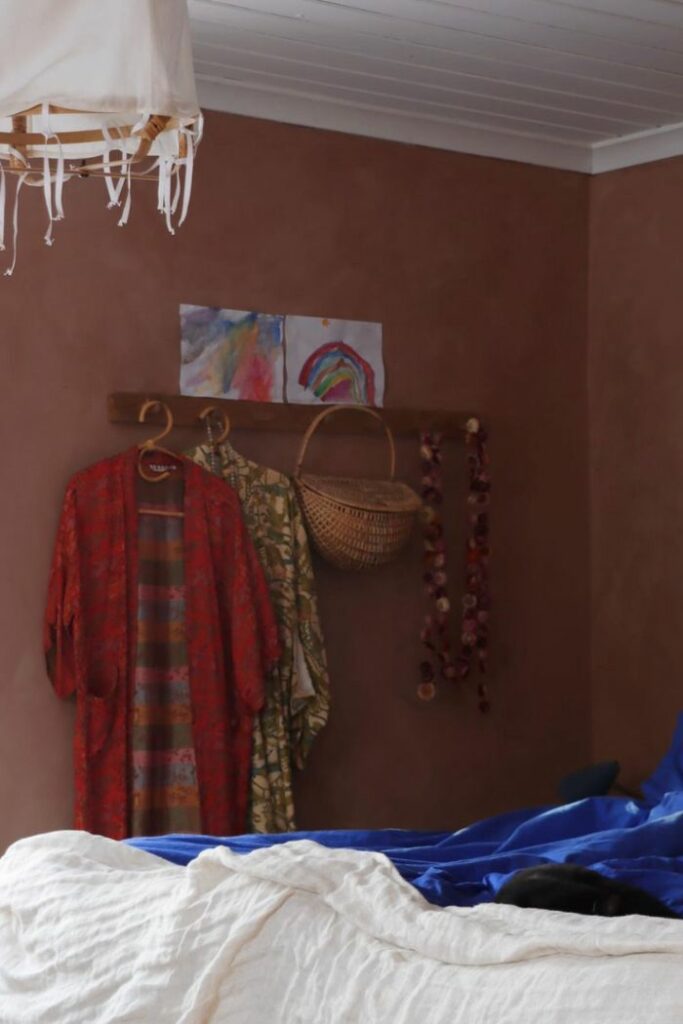 Terracotta-colored walls will take you to the Mediterranean in seconds. (22.) A lovely feeling to fall asleep and wake up to, if you ask us, and probably also @krusenbergsodlarna, whose bedroom you see in the picture.
The feel and smell of wood are hard to beat. Why not turn your bedroom into a treehouse? (23.) In classic mountain cabin style like Melanie Lichtenschop's bedroom, @melanie.lichten, (24.) or architecturally stylish à la Linn Eklund, @eeclubhouse.
Shop the look