Skilled designer and self-proclaimed anglophile Nina Kullberg has pure elegance running through her veins. The handcrafted cushions and fine wool throws that she makes are as delicate as the interiors she creates.
After five years in London Nina, her husband Andreas and their three kids settled down in an iconic architectural townhouse in the Stockholm suburb of Bromma. We paid her a visit and had a little chat about pillow overloads, tea obsessions and fast running as a reliable skin remedy.
Tuesday evening ends:
Around 11pm, hopefully.
Before turning off the lights:
I tune in on Storytel, at the moment I listen to Hjärnstark and then I snooze off.
I sleep in:
My PJ, I´m always fully dressed. My favorite brand is Olivia von Halle. The feeling is amazing.
I share the bed with:
My husband and 1-3 kids, hopefully not at the same time.
On my nightstand:
A glass of water and a book, at the moment Ett litet liv.
On my husband's nightstand:
Same as me, a glass of water and a book, but he is more into business books.
My best tip for a good night's sleep:
A late workout, brings the best good night's sleep.
Keeps me awake:
The kids…
My version of counting sheep:
Listen to any episode of P3 Historia.
My best midnight snack:
Banana porridge. It´s very important to boil the oats in milk, then squeeze in a mature banana and just a dash of full fat vanilla yoghurt.
I last dreamt about:
Our last vacation in LA.
My evening beauty routine:
I wash my face with Excuviance Clarifying Facial Cleanser, followed by Collagen Triple Boost Serum and finish off with their Evening Restorative ComplexCream.
Favorite bedroom feature:
Our bed. I love to snuggle up in our bed. I'm into soft and luxurious fabrics, so I love having crisp bed linen sets. The hotel feeling is what I aim for, combined with a soft throw and lots of cushions, of course. I often sit in the bed working with my laptop.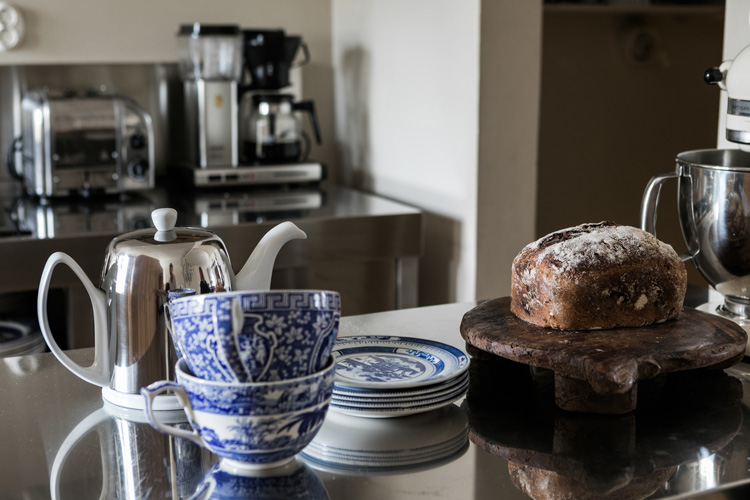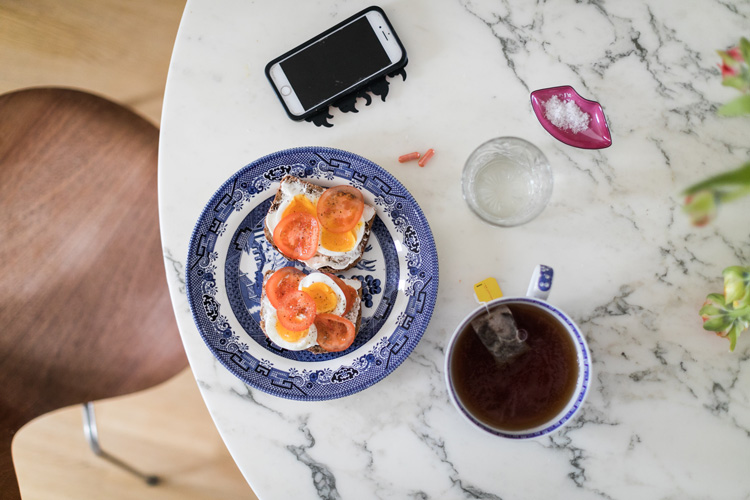 Wednesday morning starts:
Around 6.30 am.
My alarm sounds like:
I never set the alarm, there's always someone in the family who wakes up before I do.
The first thing I see:
The face of one of my kids. Eagerly pulling me out of bed.
My morning mood:
Very good, I´m a morning person.
Everyday breakfast:
I'm a routine person, I love routines and always have done. I wake up and get the kids of to school and daycare, then I take a run and have breakfast on my own. During the weekdays my breakfast consists of two thick slices of toasted rye bread, with creme cheese, a perfect yellow yolk egg topped with smoked ham or thin slices of tomato. This is combined with lemon water, tons of black tea and a ginger shot. I take the ginger shoot first thing, before breakfast. The shot, which is my mum's recipe, consists of; ginger, turmeric, lemon, and chili. I believe it's good for the body and keeps you healthy. Oh, I also take two scary looking vitamin capsules from my neighbour Linda Lampeniu's health line containing Q10, beta carotene and vitamin D. If they make you a little less tired and a bit healthier, so why not?
Birthday breakfast:
In a dreamy restaurant, from the years living in London – The Wolseley would be the place for a family birthday breakfast.
A dreamy weekend morning:
My weekend morning routine mainly differs in what I eat. We have a Saturday tradition of eating waffles. Waffles with fresh berries and Greek yoghurt – the whole family loves it. I´m a true tea drinker, starting with the first cup after my run and then I always have a cup next to me until lunch, and then coffee takes over. I like all kinds of teas but my favorite is still Fortnum and Mason royal blend.
Morning beauty routine:
Ok so I know this sounds like I'm obsessing about running, but it's my thing. I run. I love it and I'm good at it. So. With that said, my best beauty routine is running, I always think my skin is at its best when I have taken a run, so I try to run in the morning followed by Excuviance serum and day cream.
My do's and don'ts when making the bed:
Do's – a lot of cushions, haha! You can't get too many. I don't believe in don'ts – just go with quality bed sets, throws and cushions, everything will look fabulous even how poorly you make the bed.
Also … we just have to ask, how can your hair always look so perfect?
Haha, thank you! I go old fashion, after blow dry I use hair rolls.
Text by Josephine Blix
Photo by Mikael Lundblad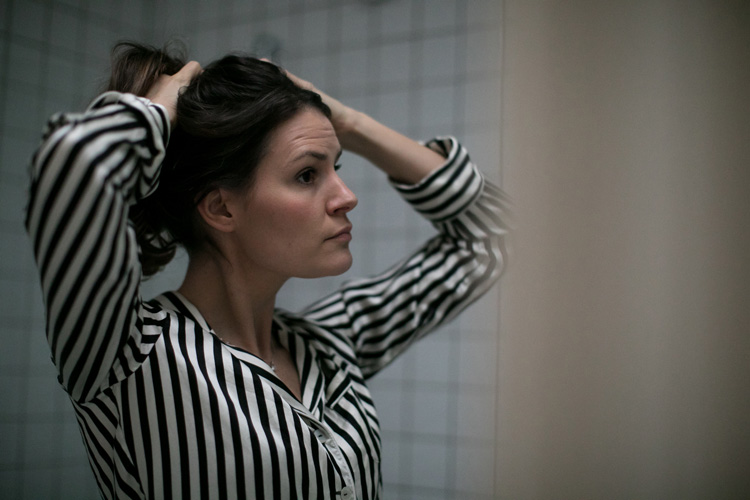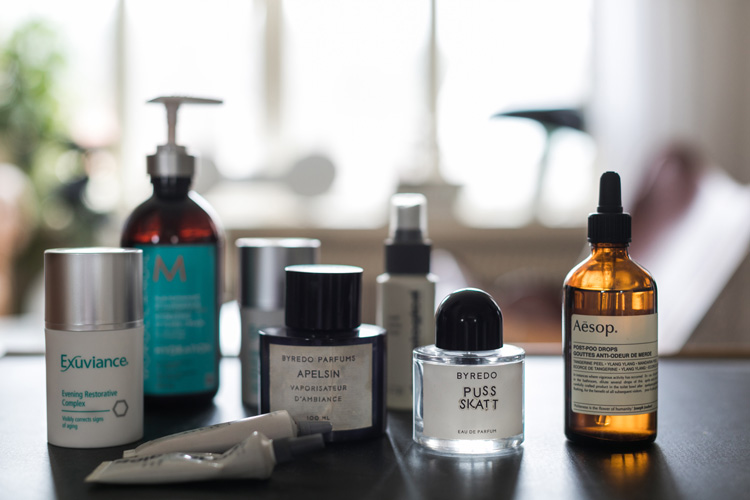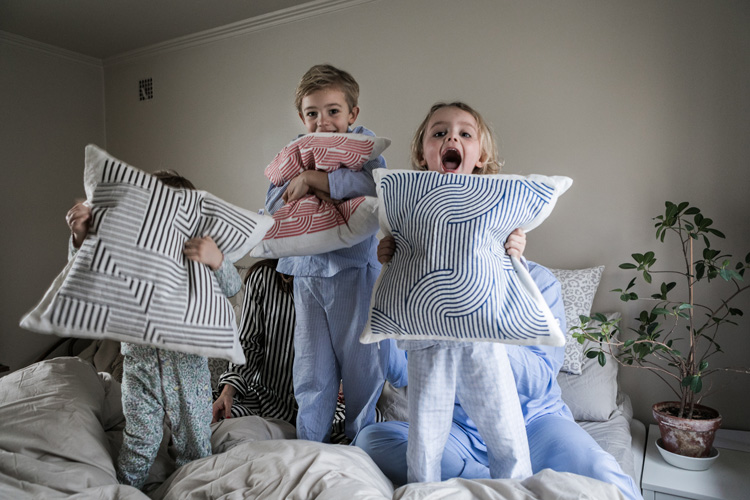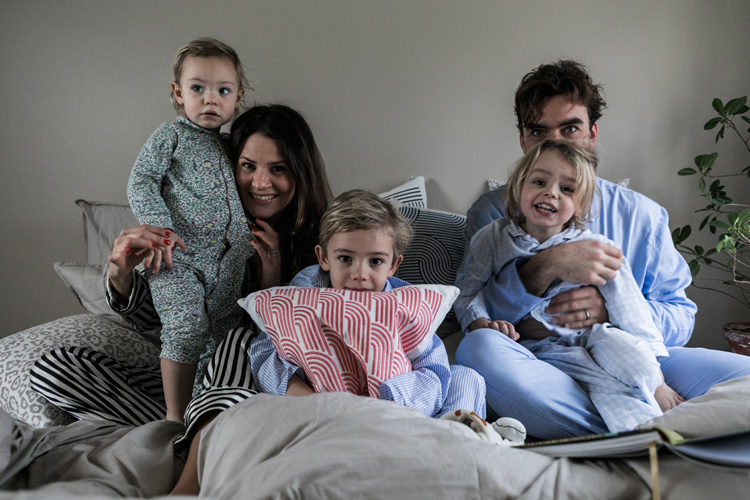 Shop the look