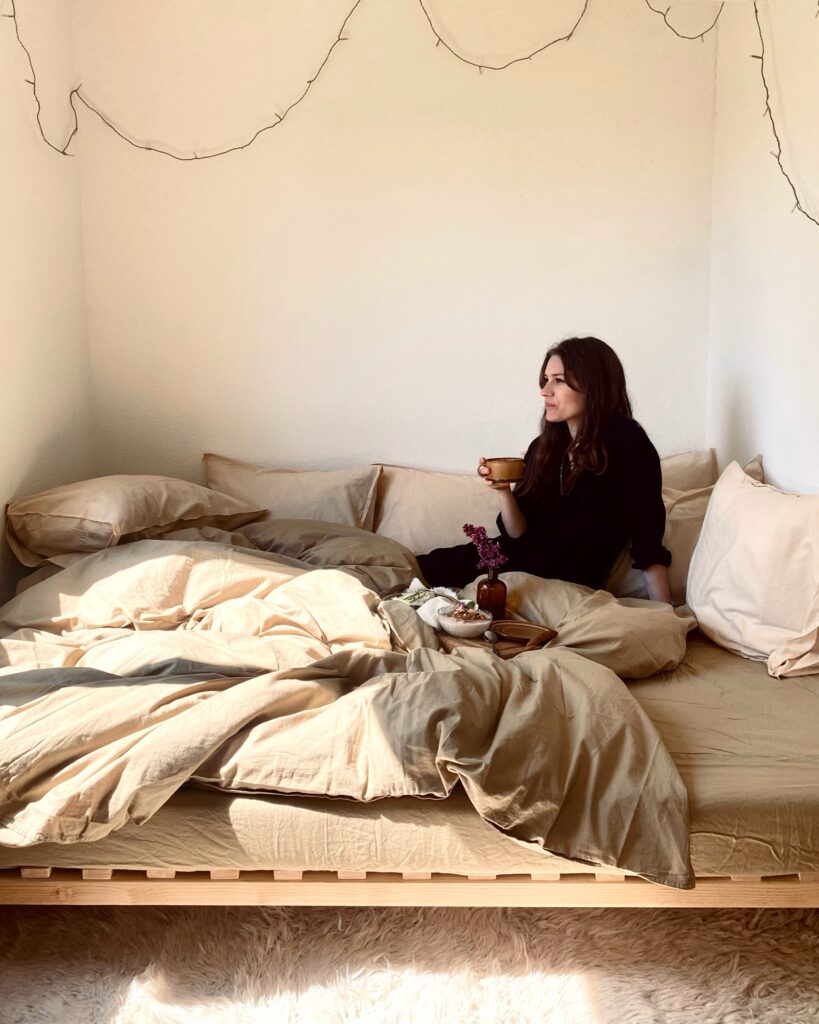 Overnight oats with homemade rhubarb jam
She is the actress with a smart comeback to any line and the design journalist with a sharp description of any event. When Michelle Meadows is not in the middle of finishing up a magazine story while fixing a flat tire on her bike, she is probably YouTubing how-to tutorials of some home construction project most of us would never dream of taking on ourselves. Yes, house foundation and roof insulation could be words in her searches. So, when we got a summer breakfast invitation to her beloved allotment right outside Stockholm, we did not hesitate a second to accept.
"My favorite place to have breakfast is here at my allotment. I wake up, open the door and walk barefoot into the garden. For such a small house, it's 26 square meters, I have a pretty equipped kitchen. I find that I enjoy cooking even more when I have grown the ingredients myself, so I have filled the cupboards with all kinds of appliances, some used more frequently than others…"
Overnight oats with tahini & rhubarb jam
"So my go-to breakfast on any given day is overnight oats, or if I was too lazy the night before, regular oatmeal. I just mix oats with water and/or oat milk. Say one deciliter of oats and one deciliter of oat milk. Sometimes I will throw in some chia seeds or grind some cardamom and add to the mix. I used to chop up almonds and add them too, but that made me break out – so no more nuts!
On top of the overnight oats, I usually put a lot of tahini. If I don't, I'll wind up hangry 30 minutes later. On a rushed weekday, I will top this with some dried pollen and be done. But during the weekend, it's nice to add some eye candy. Today I made rhubarb jam because it's that (lovely) time of the year. And the first homegrown physalis of the season! They are so tasty and have a slight hazelnut taste this time of the year. Later as the season progresses, I will use cherries, red currant, apples, etc."
Ingredients for the jam:
0,5 kg of rhubarb
400 g sugar with pectin
Preparation for the jam:
Use a larger pot than what seems necessary. Chop up rhubarb stems into 1-2 cm pieces and add to the heated pot with a tiny bit of water. Once softened, add sugar and mix with a spoon. Then pour the finished jam into glass jars. It's too delicious ever to have the time to go bad, so I don't bother with properly disinfecting the jars. If you have it at home – add some vanilla.
Crackers
"With my overnight oats, I have a homemade cracker, some Gruyère, and chives. And of course, coffee."
Ingredients:
2 dl Pumpkin seeds
1 dl sunflower seeds
1 dl dried cranberries
0,5 dl flaxseeds
3 tablespoons of psyllium husk
0,5 tablespoon of flake salt
0,5 dl of olive oil
2 dl boiling hot water
Preparations:
Heat the oven to 175°C. Mix dry ingredients. Add oil and hot water. Flatten and cook in the middle of the oven for about 20 minutes.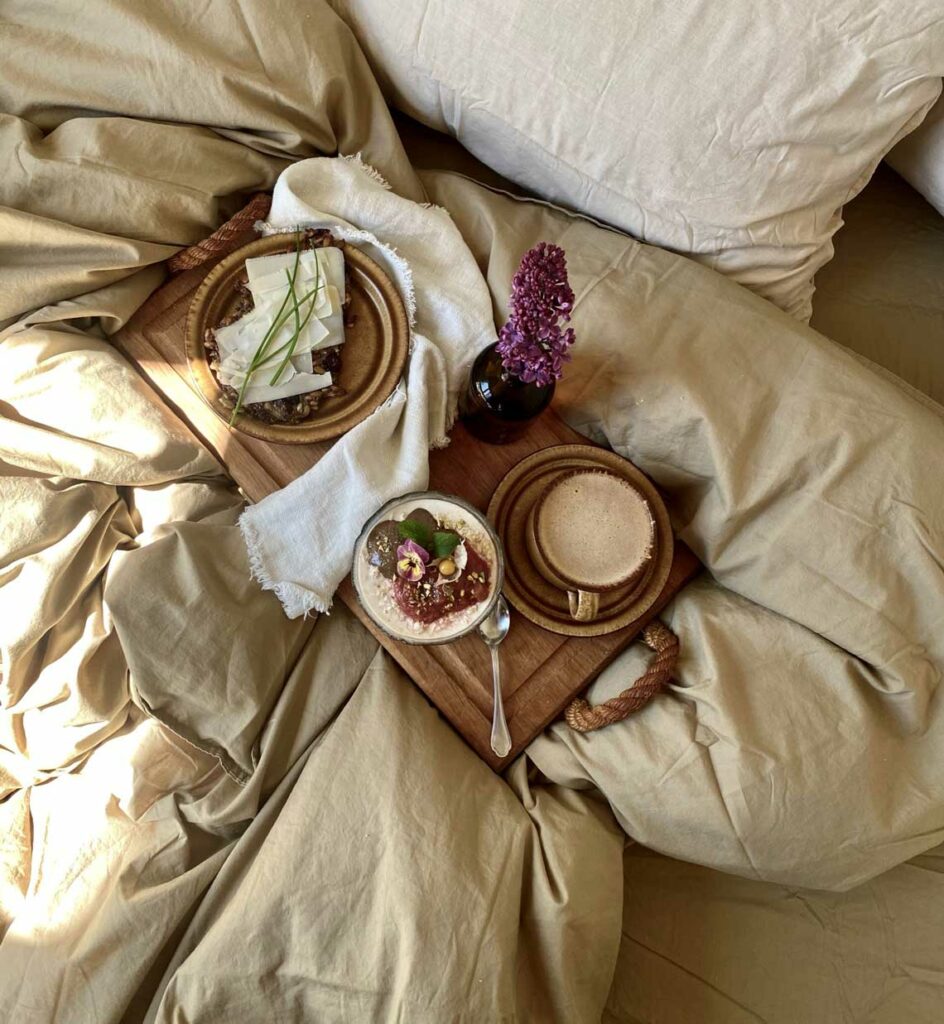 "I first moved in here in the fall of 2013 and have slowly gotten to know the place and altered it. Coming from the interior world, I put a lot of emphasis on renovating the house. But of course, I have also tried to master growing as many vegetables as possible in my limited space. This year I am growing four different kinds of pumpkin (they store so nicely) and have welded a huge arch for them to grow on. Other projects this year are designing a new cottage-style border (flowerbed) and building a new outdoor dining table. The dream would be to build an outdoor kitchen with a bread and pizza oven. Fingers crossed."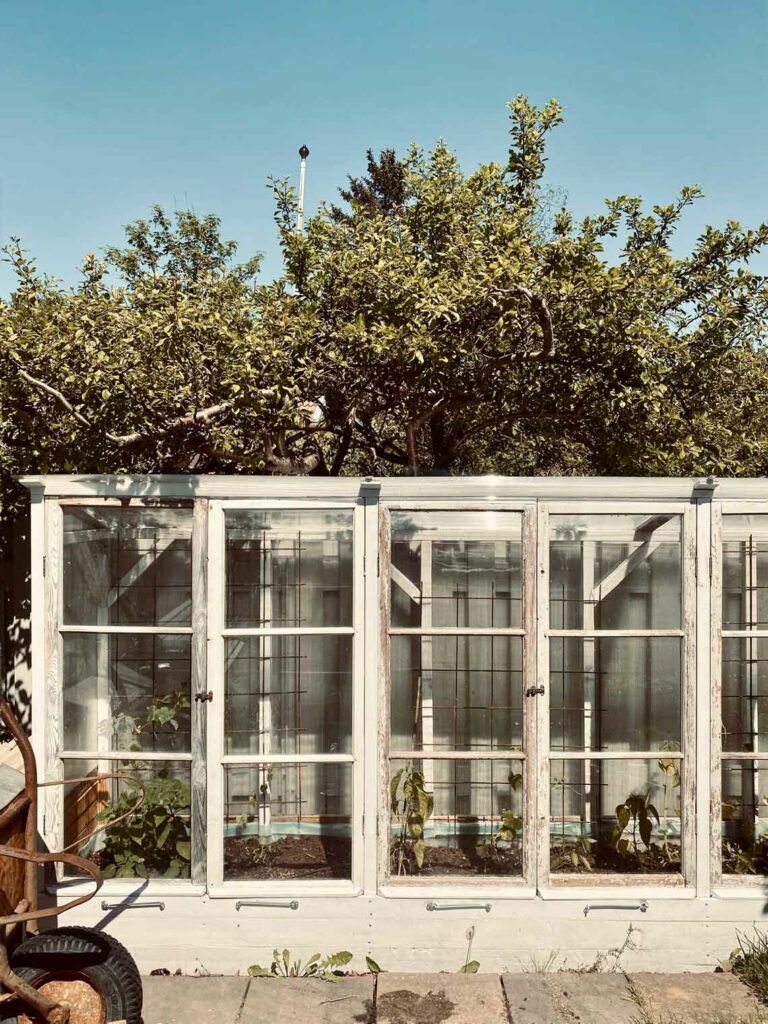 Recipe by Michelle Meadows
Images by Josephine Blix
Shop the look