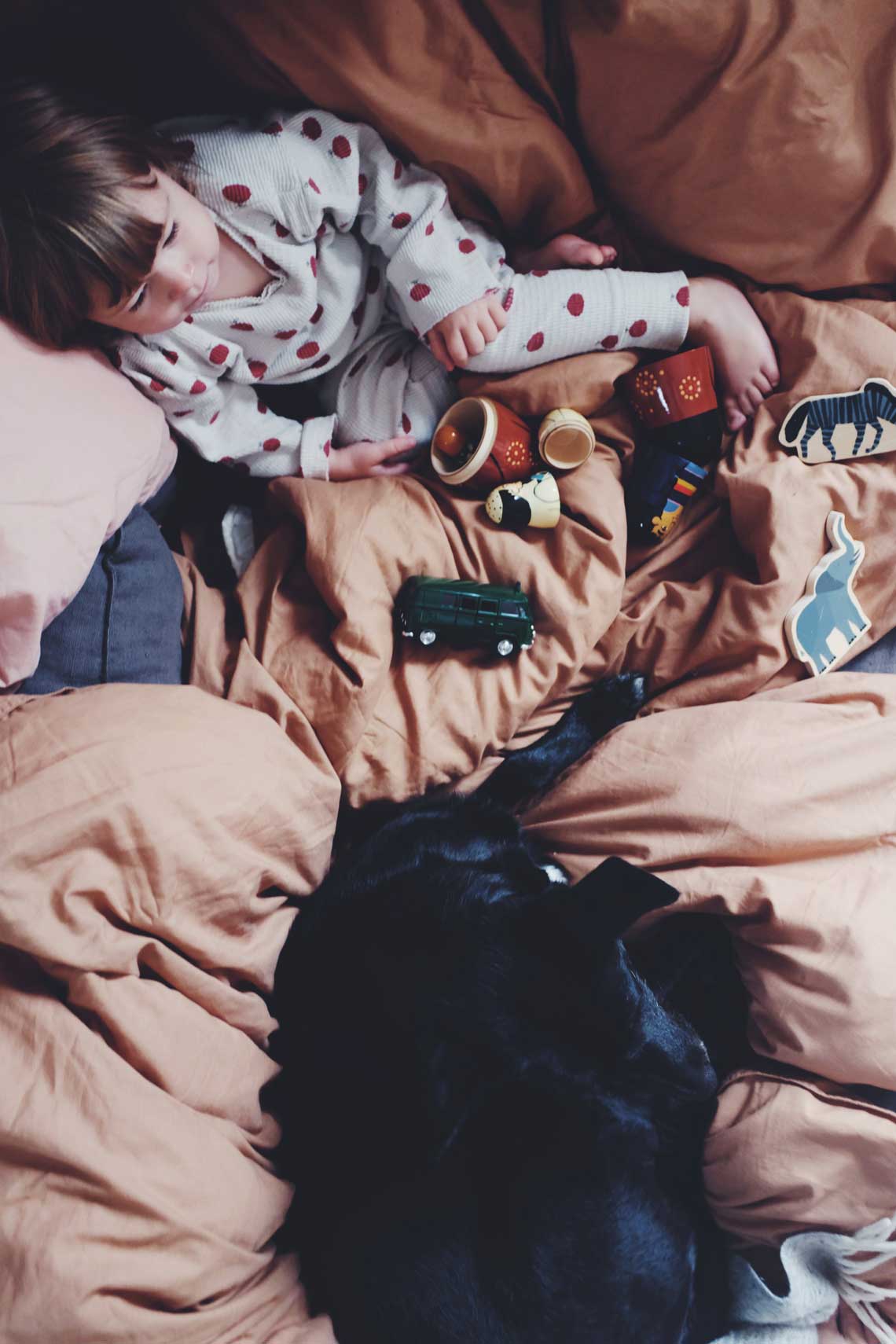 "We prepare dinner while the dog and the kid read about cats"
Let us introduce a new series in Midnatt's Journal – a minimized version of our In Bed With interviews. In these bedtime stories, we focus on the little ones and their favorite fairy tales and mini routines.
This weekend, we jump in bed, read about cats, and eat croissants with Inez, 2, and the dog Harry. We also talk to their illustrator and artist-mom Fanny Schultz about her Sunday and discuss the contradiction of loving mornings without being a morning person.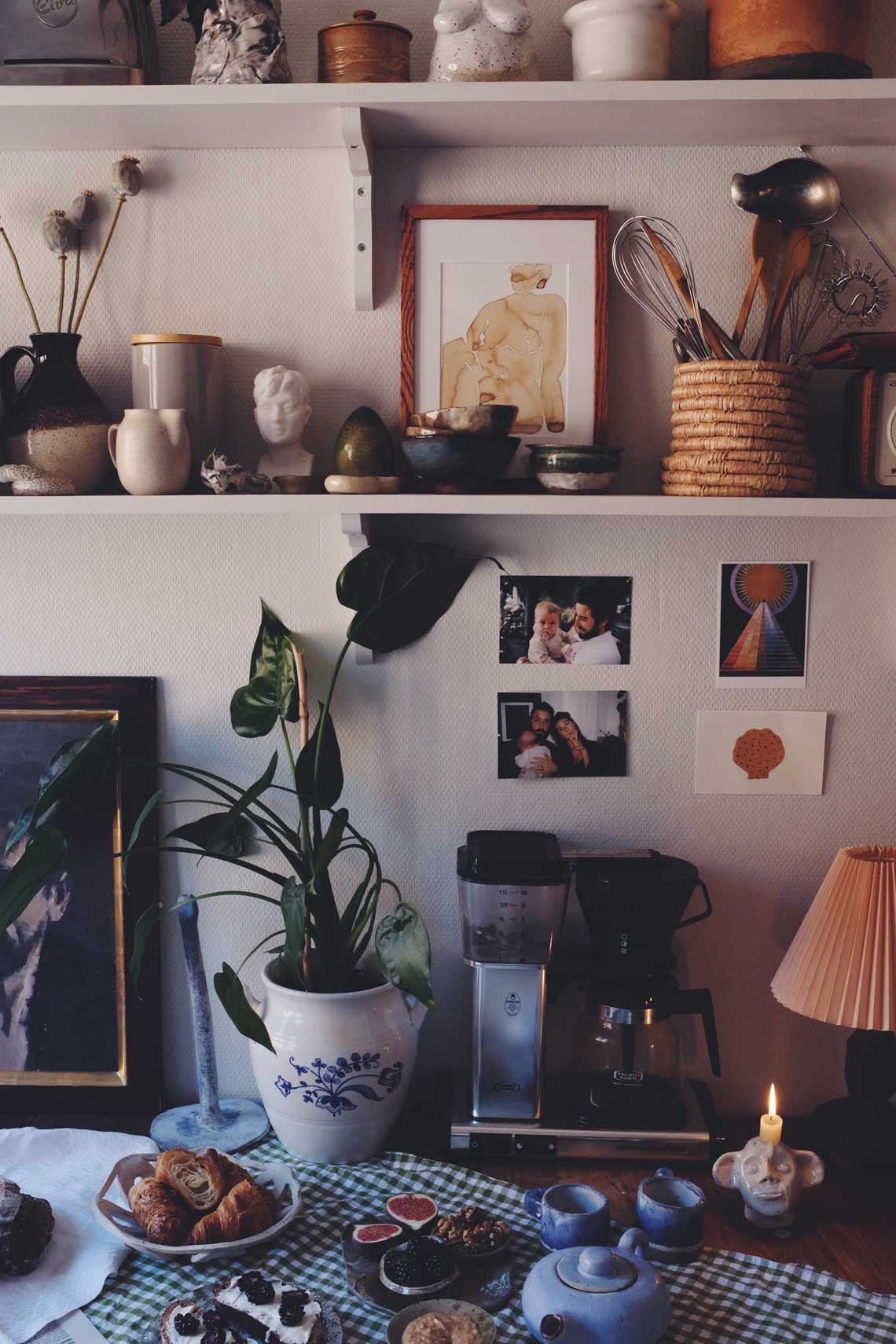 8am – Sleepy morning persons
We are not morning people – but we do love everything about mornings if that makes any sense?! The food, the coffee, the snuggling around in cozy clothes, the quiet radio in the background. Around 08.00, we leave our beds, weekends as weekdays. Sometimes a bit earlier, if Harry (our dog) wants an early breakfast, but she usually chooses to sleep a bit longer.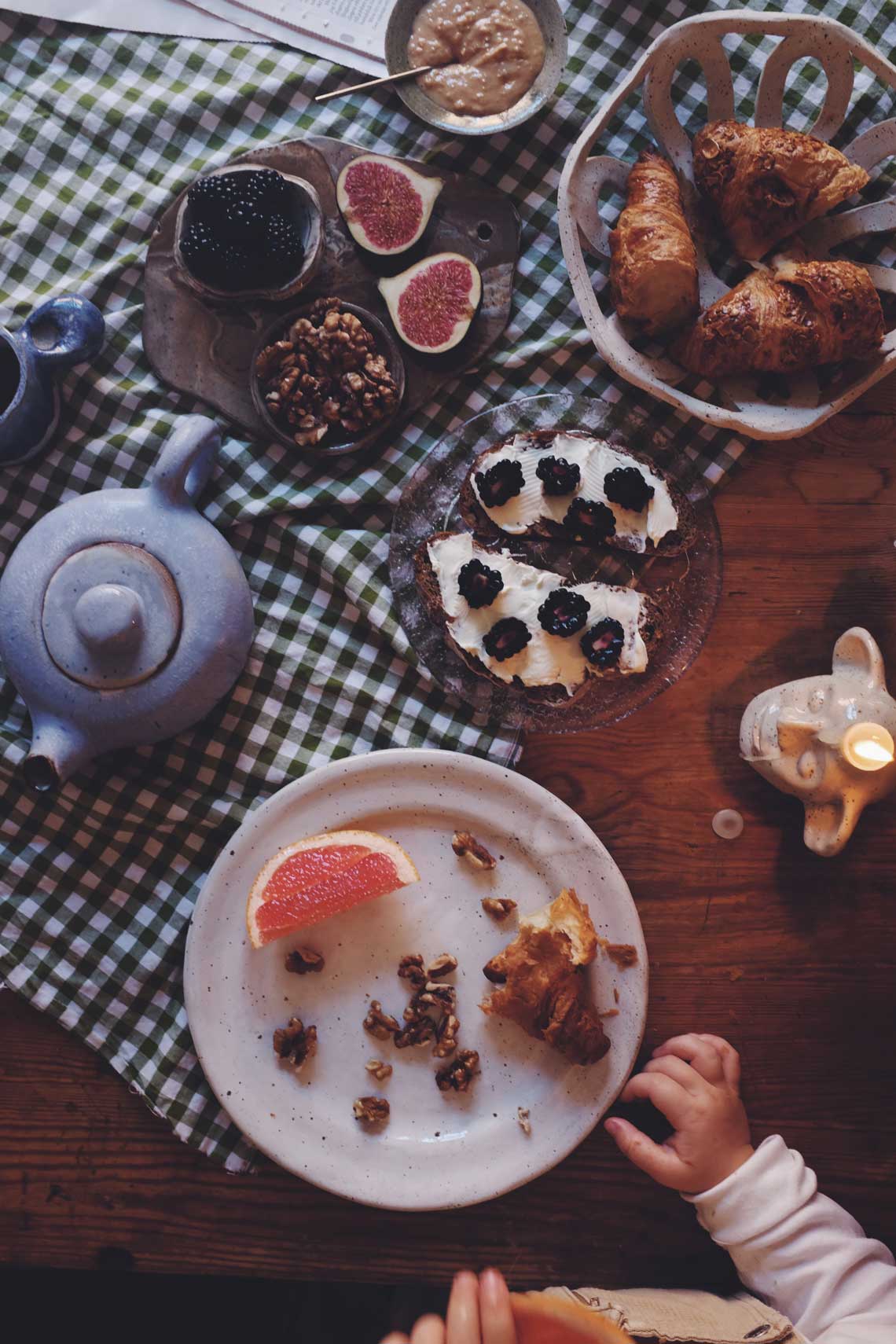 9 am – Breakfast table relay race
If this was a weekday, we would be at work now, but since it's a Sunday, we eat our breakfast at this time. Me and Victor – coffee, oats & sandwiches, Inez – always yogurt with berries and honey. This day she got a croissant because it's our favorite weekend pastry. Harry eats what's left on the floor, which is quite a lot with a two years old kid, obviously. The tricky part here is to get everyone to the table simultaneously and remember to put on the coffee, so it's done by the time we sit down. And then we sit down. For about seven minutes until Inez really wants to go play with the cars and really wants us to join, and really doesn't give up until one of us does.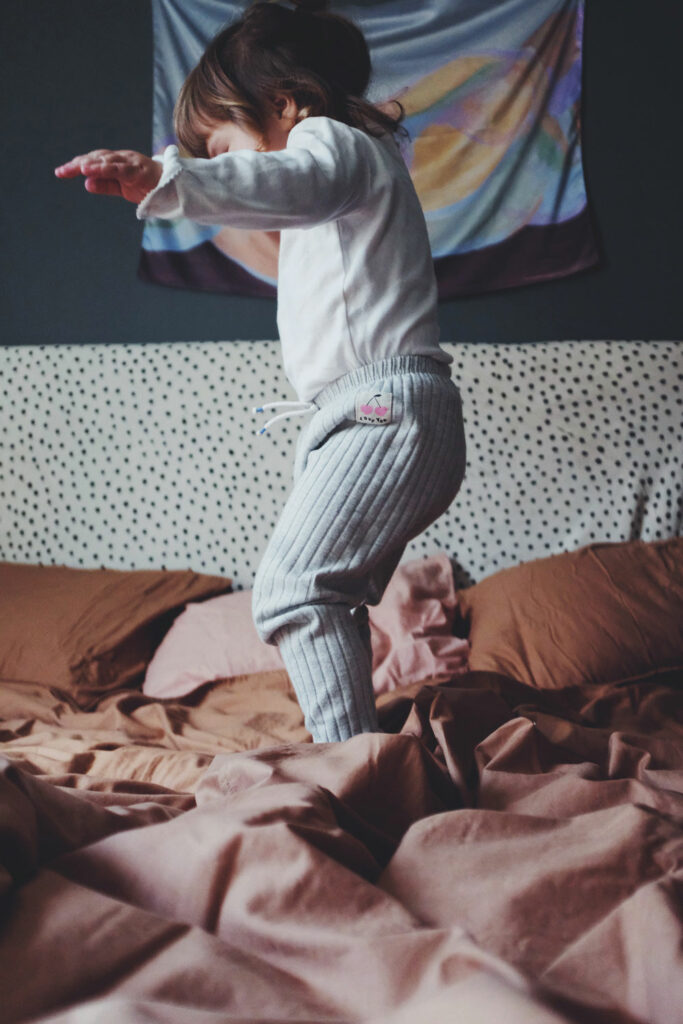 11 am – Pajamas all-day
The golden moment of questions. "Have you seen the red sock?" "Where is my phone?" "Would you put on Inez some clothes?" "Inez, where is my day cream/wallet/charger/keys"? "Can you tell Harry to stop eating from the table?" At the same time, you ask yourself how many times you can beg a child to get out of her pajamas.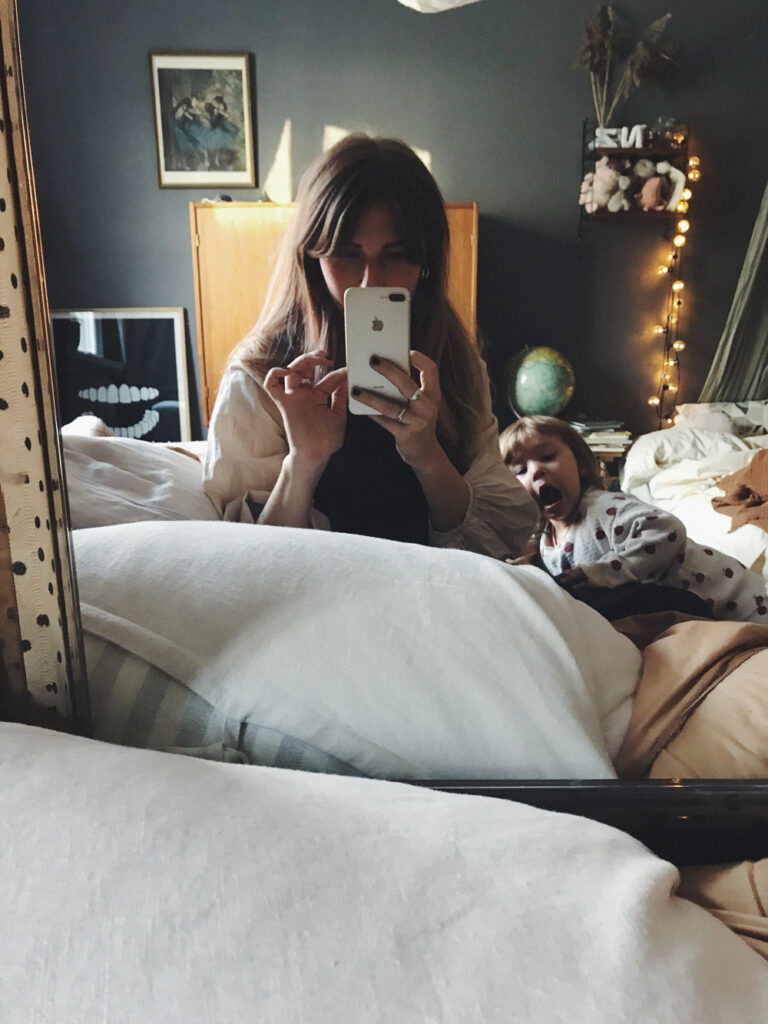 12 pm – Bun-bribe
Just a regular mom trying to take a standard selfie while the dog and the kid chase each other in the background over a cinnamon bun which they were given as a bribe so the mom could take her selfie alone, oh the irony.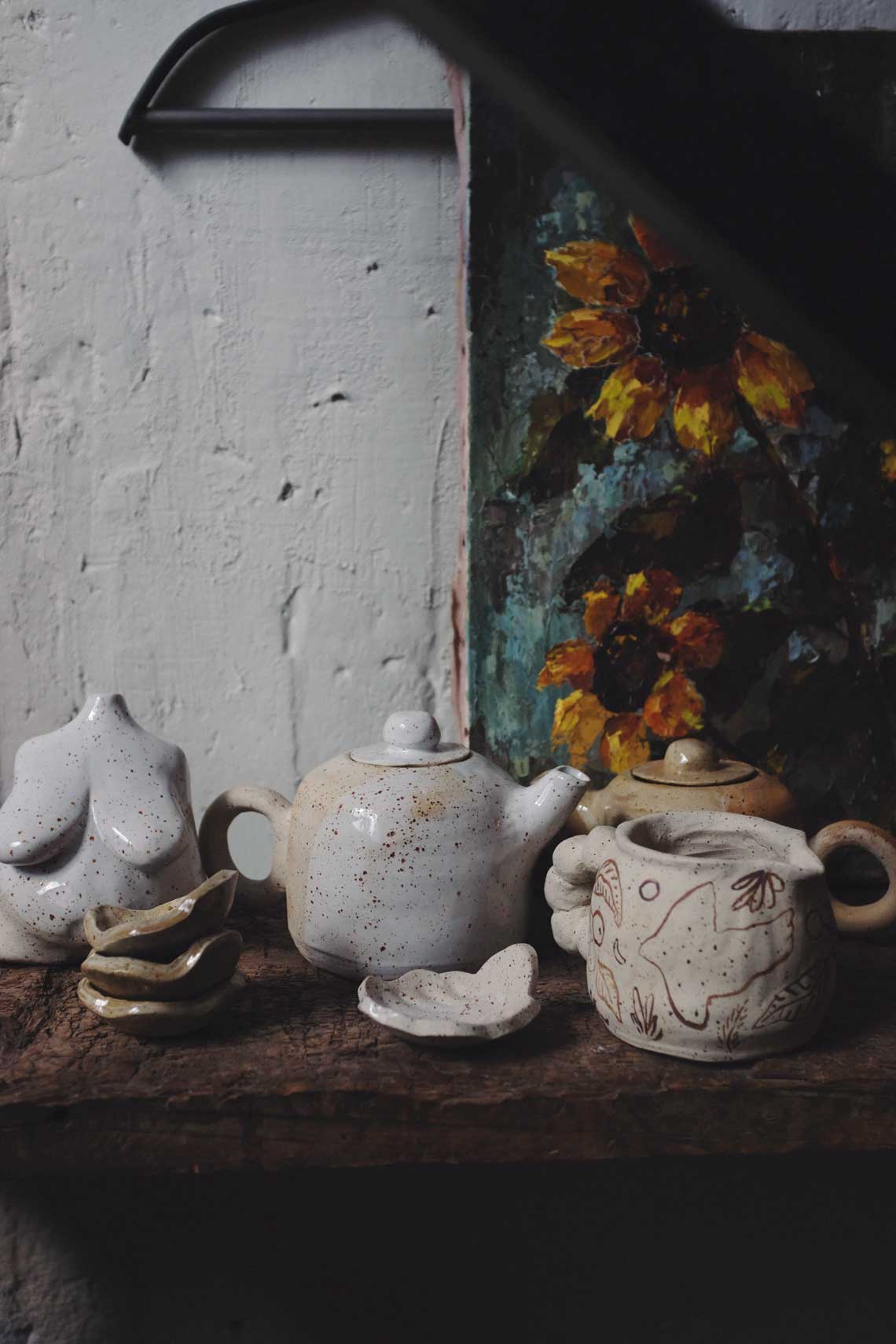 1 pm – Pancakes with grandparents = studio time for the parents
This Sunday, Inez goes to her grandparents to eat pancakes, so the adults + dog spend the day in the studio. I make some teapots, and Victor moves some furniture around and glazes his hand-built candleholders. This does not happen too often since we got our kid, but we love to spend time together making things. We usually do it at night after Inez is asleep with a bottle of wine and a podcast in the background. (We absolutely watch Netflix and eat candy as often as, no worries.)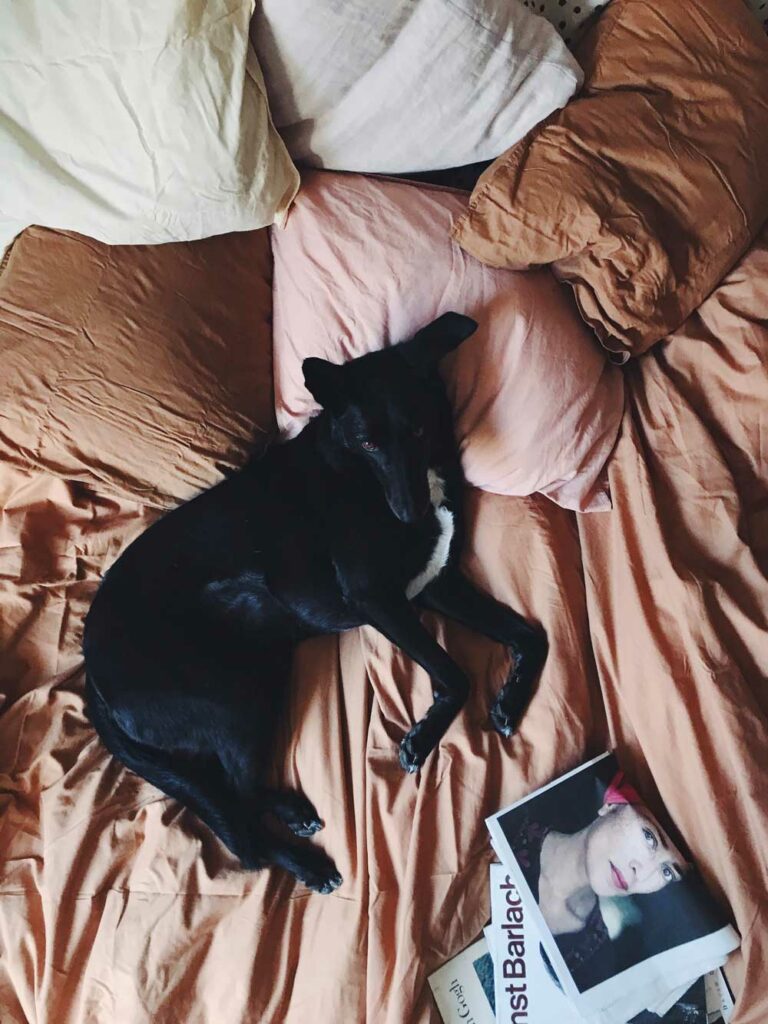 3 pm – Why have a dog if you don't want it in your bed?
Harry is a lazy one. She has been lazy since she was a puppy. She loves to sleep during the day, on the sofa, in our bed, or in her own bed; Harry is not a floor kind of dog. Why have a dog if you don't want it in your bed? That's exactly what dogs are for. I think it was Agnes Wold who said those words, and I couldn't agree more. The evenings are Harry's best time. When we're at our country house, she's outside from afternoon until night, doing things we choose not to know about, but it involves field mice and digging.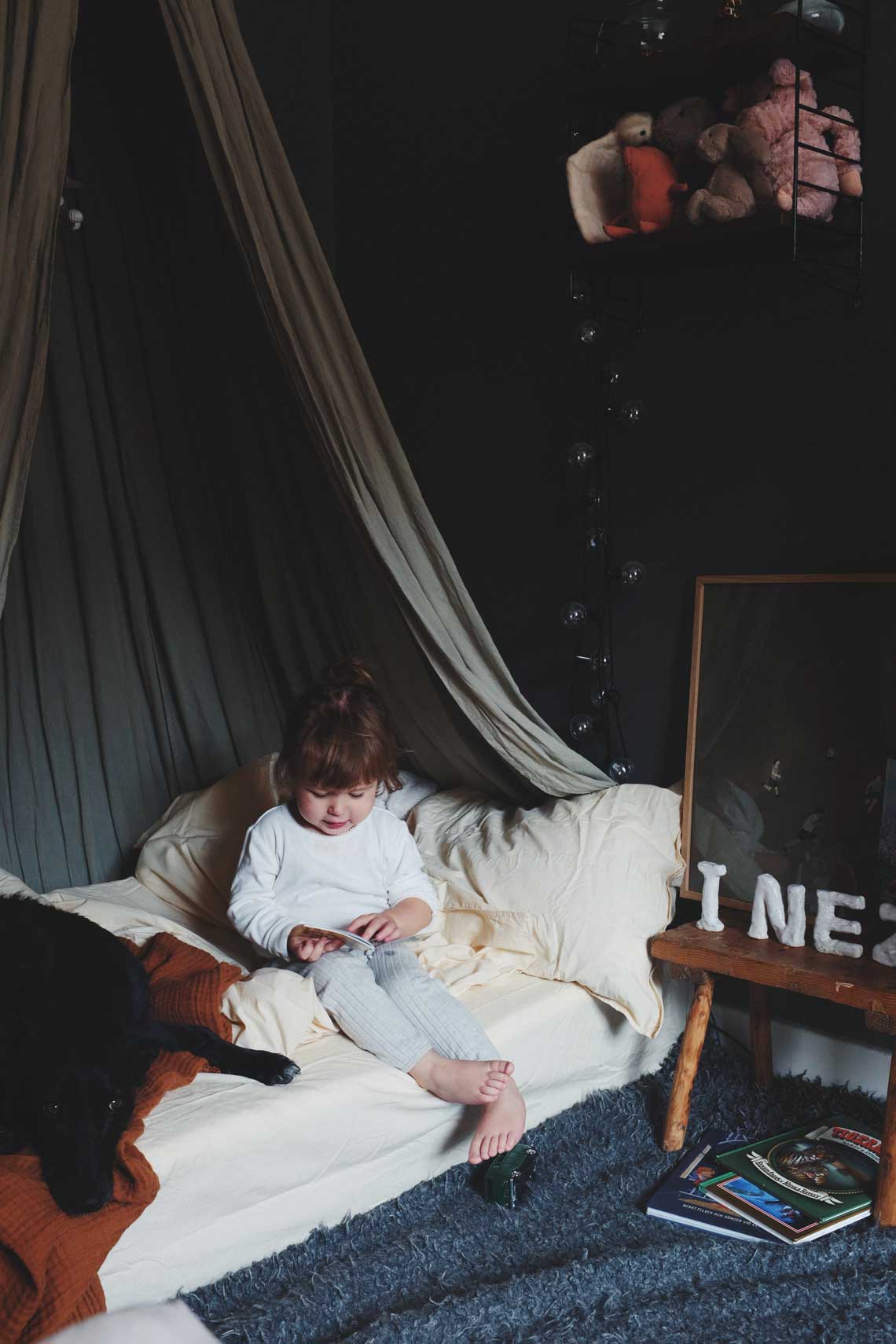 6 pm – Precious chill out time
Everybody is a bit tired from the day, but not TOO tired. This is a great mood, actually. Maybe we read books. Perhaps we watch something on TV. This day we read Kattkalaset. The illustrations in it are super dreamy. I guess me and Victor prepare dinner while the dog and the kid read about cats. And nowadays, making dinner for three people is quite relaxing.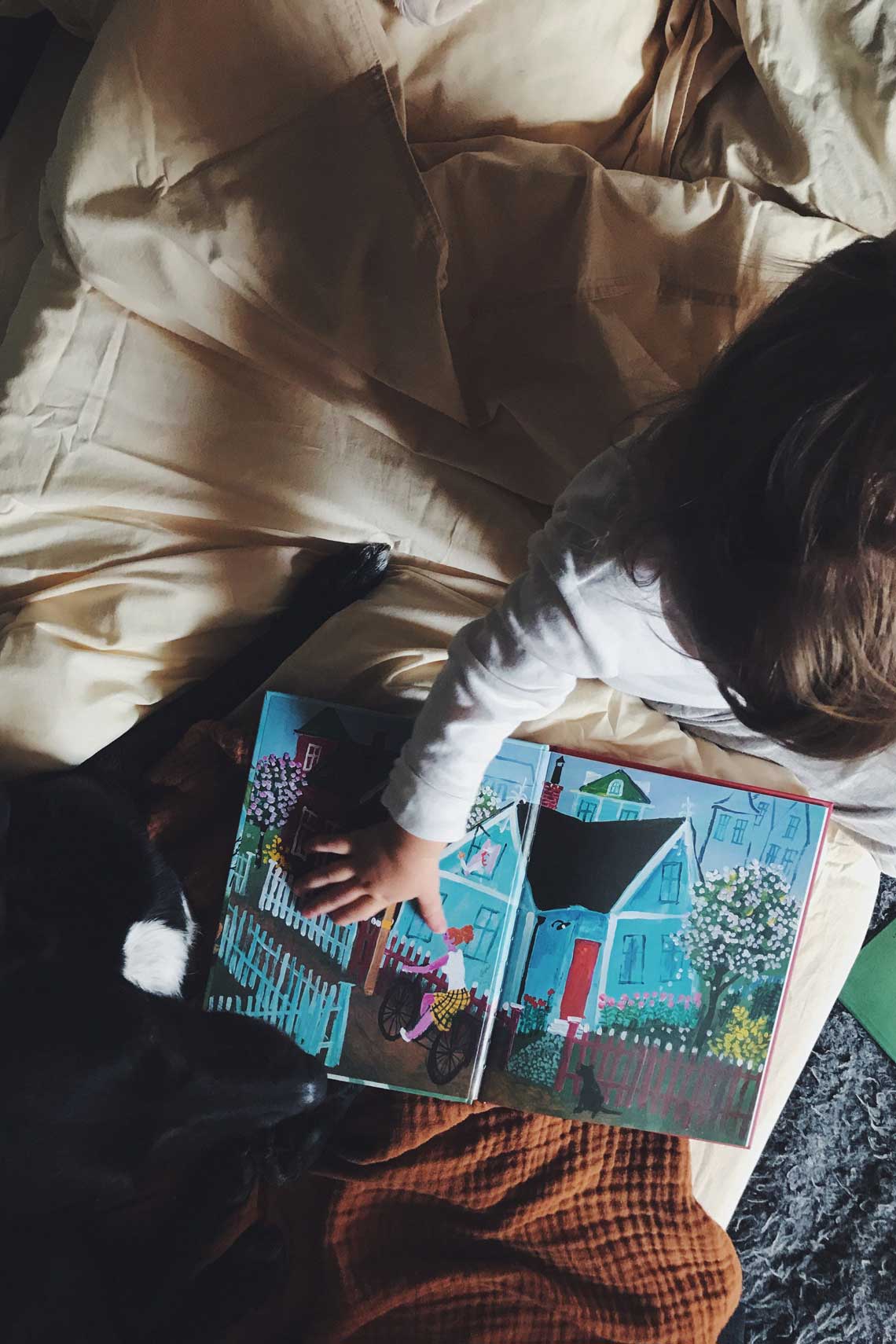 Words and images by Fanny Schultz
Shop the look