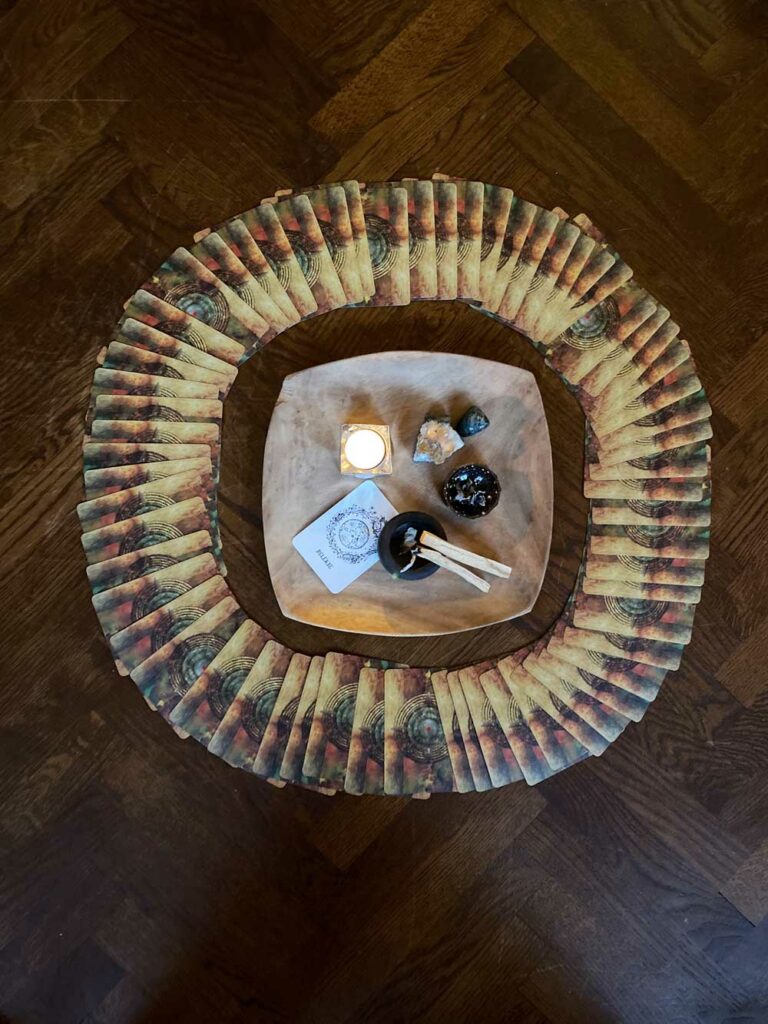 Moon Circles
We finalize our spiritual manual with a celebration of the lunar phases. Midnatt tributes the moon in our brand logo and this natural satellite also helps harness peace and closure, according to some. As always when we seek answers in the intangible spectrum, we turned to our dear friend, yin yoga instructor and Reiki healer Rosanna Irgensdotter to get the guidance on how to host moon ceremonies, perfectly timed by the full moon (and super moon!) in coming days.
"Moon ceremonies is an energetic and amiable way to gather. I host moon rituals regularly according to the lunar calendar. Every ritual is linked to the symbolic fullness of the moon and I usually guide ceremonies connected to the new moon and full moon, but each moon phase (a waxing moon, a waning moon e.g) has its own powers and represents an opportunity for growth in a specific area alone. Below I'm going to describe the difference between a new moon circle and a full moon circle but first, a small presentation of what unites them both.
During the moon circles I host, we are doing yoga together, share thoughts, receive strength, manifest what we wish for and let go of what's bothering us. I usually start the ceremonies with some soft yin- and restorative yoga initially. We do this to get maximum relief for the body's system and simply come to rest in the room. After that soft start, you gather in a circle. Here you want to practice being fully present and allowing each other to take their time and space. What follows, depends on which moon you will be honoring."
New moon
"Spiritually speaking, a new moon is the time for manifesting, it represents a new beginning. During the new moon circle, we manifest what we wish to have in the coming lunar orbit, or in the future. A manifestation ritual can involve either writing down, visualizing or saying out loud what you hope to achieve. If possible, try to focus on as many details as possible when you verbalize this. By telling the universe what you wish for in thoughts and subconscious actions in your everyday life, you will get better chances to achieve these wishes. As I see it, the thin crescent holds one's desires to make them a reality through the growing moon."
Full moon
"The full moon is a time of gratitude and release. It guides you to release what no longer serves your highest purpose. I personally, see it as the moon carries what we want to release until it disappears in the dark. During both moon ceremonies, we meet each other without masks and are feeling lustiness and kindness in the community of the others in a circle. It is fantastic how healing it can be to meet in this context, with a total permission to be exactly who we are.
Since many of us are already feeling affected by the moon and its different phases, I will encourage people to impersonate the strong energies that are available to make some extra contact with ourselves and realize what we wish for and what we have enough of. These circles and rituals give us an invitation to listen inward and, if the spirit moves us, share our thoughts in front of others in the group. There is something very powerful in sharing one's deepest longings or thoughts in the presence of others."
Rosanna hosts moon circles frequently. Want to take part? Read more here.
Words by Antonia af Petersens
Images by Josephine Blix
Shop the look