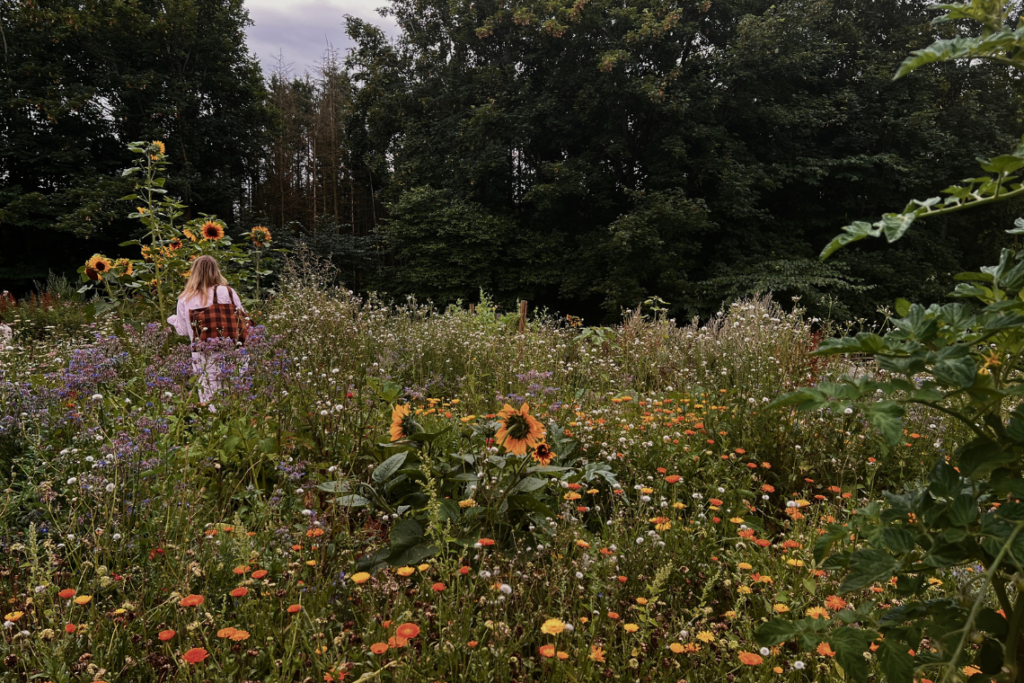 Our co-founder Josephine Blix spends most of her summer in Österlen in the south of Sweden. Close to her family, the wild ocean and the open fields. All she knows about cooking is mercilessly stolen from her brother, and everything she knows about coziness is directly inherited from their mother.
I spend my summer at my family's 19th-century brick farm in Österlen in southern Sweden. Mum and dad, my brothers, their children and ours, five dogs, vast fields of sunflowers, and incredible sunsets make this place an (intense) respite for me..
My little brother is a chef and my mother is a great food enthusiast, so we always plan the evening's menu with our morning coffee.
Tonight there will be three small dishes. Whipped burrata with my brother's incredible chili oil, the way they serves it at restaurant Sturehof in Stockholm. A super simple creme fraiche spread with boquerones, sweet little peppers, lemon, parsley, and honey. The mix between sour, salty and sweet is the best! Last, NOT least, we make a pomodoro brodo, like a broth of fresh mixed tomatoes, to go with some ricotta tortelone made of organic' Ölandsvete.' A good parmesan cheese, a cold bottle of frizzy wine, and some ravaging children around the house – and we are good to go!
I love to swing by Pastafabriken in Ingelstorp for a glass of wine and shop their incredible homemade pasta over the counter. They also have good cheeses and fun Italian preserves that I obviously can't resist.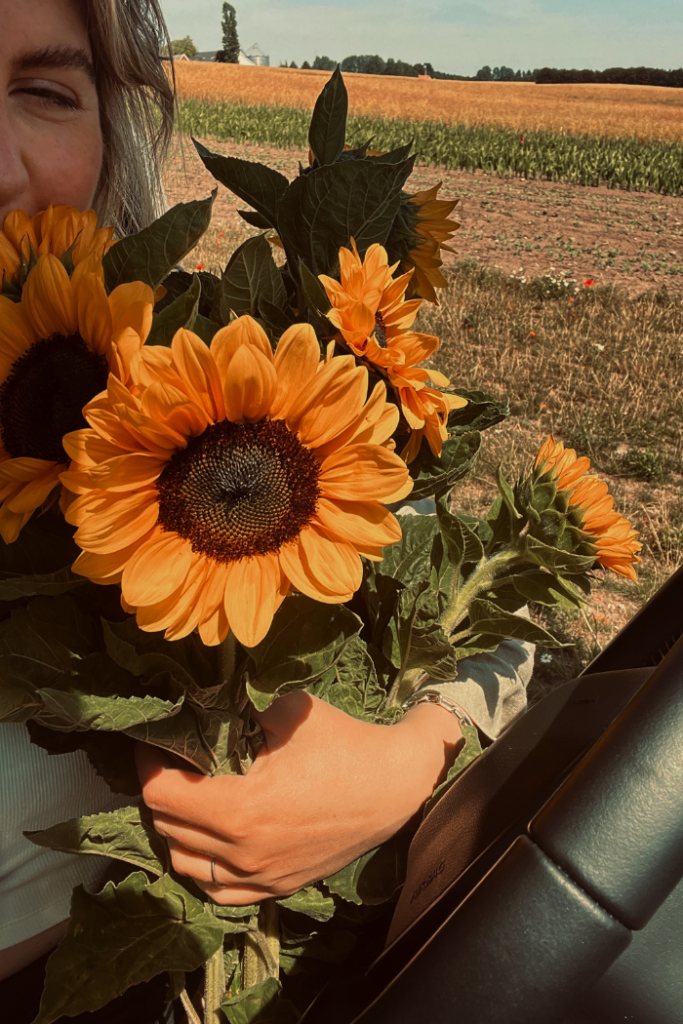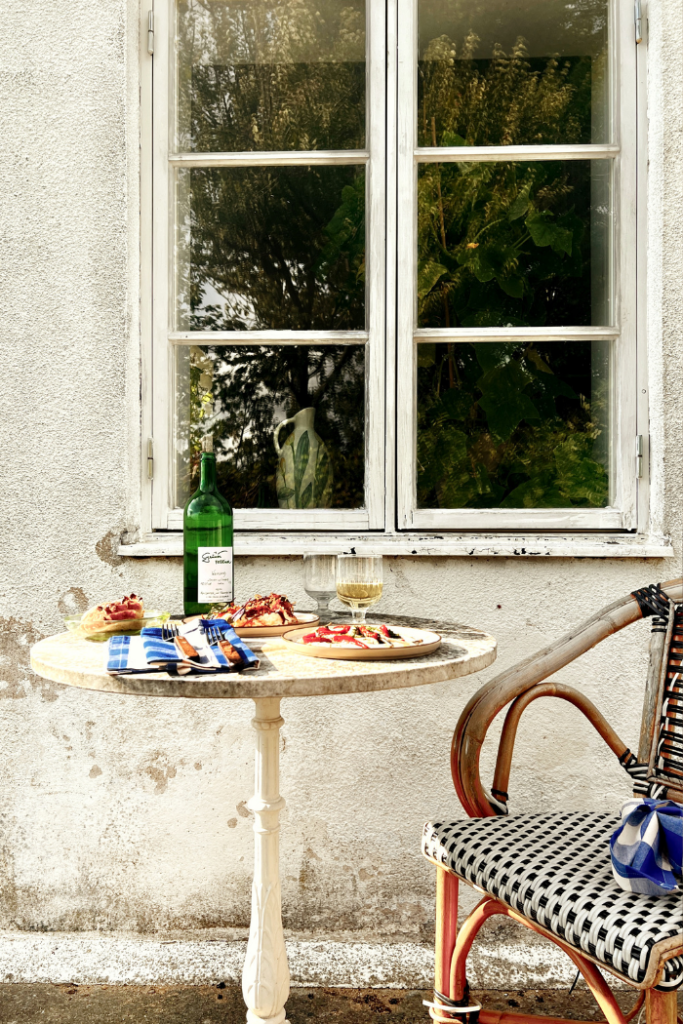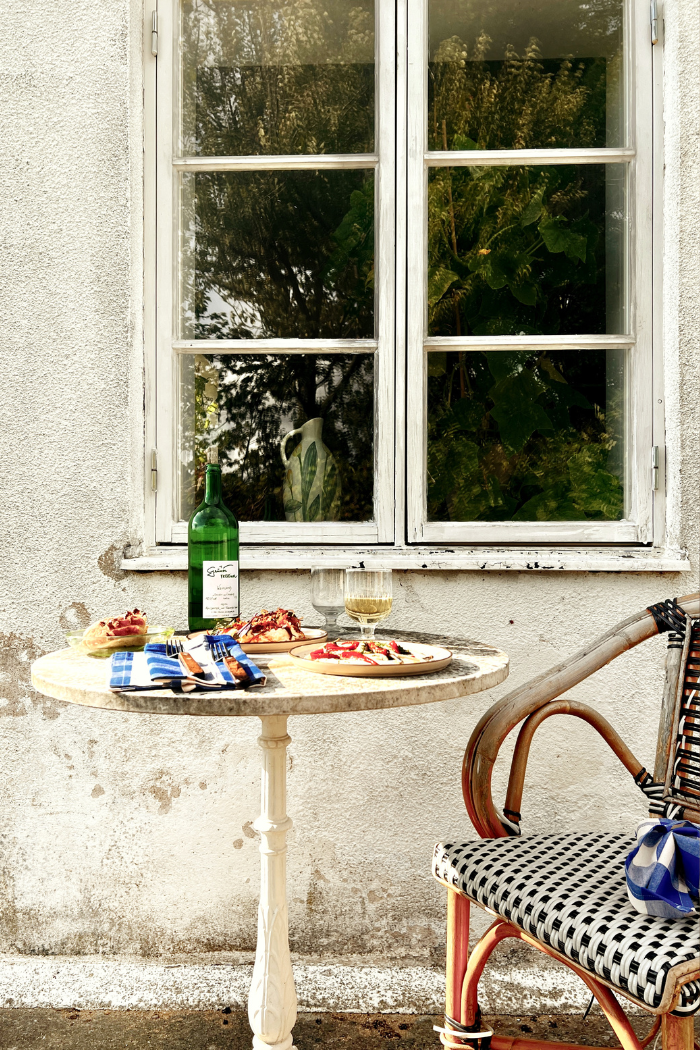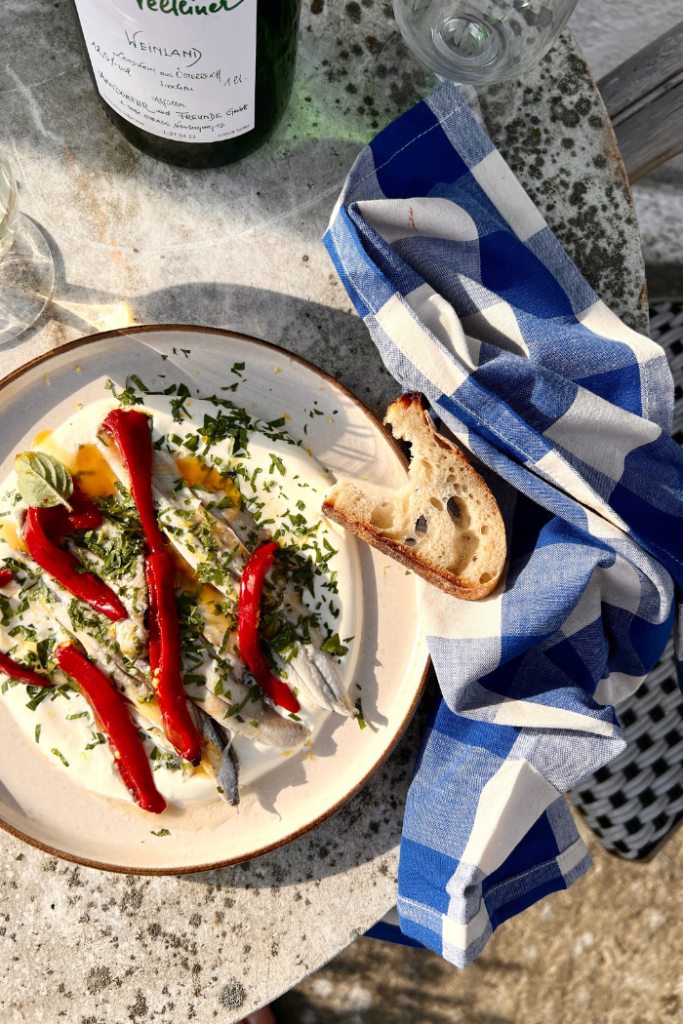 Boquerones with pimientos del piquillo, parsley and honey
The recipe serves 2-4 people, as a part of a light dinner.
Ingredients:
3 dl of creme fraiche
Zest from 1 lemon
Juice from 1/2 a lemon
Fresh parsley
Three pimientos or other grilled pepper
1 tbsp of honey
Freshly cracked black pepper
One tin of Boquerones
Method:
1. Add lemon juice to the creme fraiche; it will make it a bit loose, but don't worry, it will thicken in under a minute.
2. Spread it over a plate.
3. Place lovely Boquerones and grilled peppers across it.
4. Add chopped parsley, freshly grated lemon zest, black pepper, and ripple honey over it.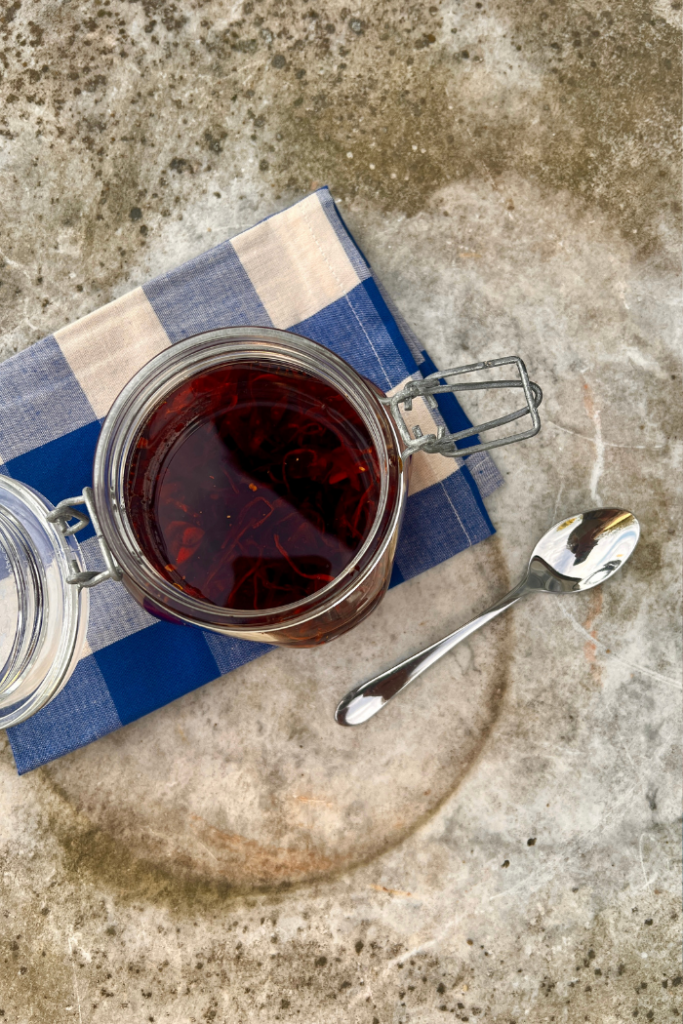 Whipped burrata with crispy chili oil
The recipe serves 2-4 people, as a part of a light dinner.
Ingredients:
Ca 0,5 dl fresh cream
1 burrata (about 125 gram)
Method:
1. But the burrata in a medium big bowl
2. Mash it up using a whisk
3. Add the cream and whisk until combined
Ingredients (one jar of chili oil)
0,5 rapeseed oil or other oil of some kind
2 tbsp of gochugaru or other chili flakes, more seeds equals more heat
3 onions whatever you have laying at home, thinly sliced
4 garlic cloves thinly slice
1 tbsp of fennel seeds
Method:
1. Put the onions and fennel seeds in a saucepan and bring to a boil. When everything is browned and slightly crispy, remove and save it for later on a piece of paper.
2. Add the chili flakes to a metal bowl and pour the hot oil over them to release all its spicy flavors, the oil can't be over 120 degrees unless the chili will burn.
3. Let everything cool to room temperature.
4. Bring one of your favorite jars, add the onions and pour the oil over them. The oil will last at least six months in the fridge. And can easily be left out of the refrigerator for three months.
Place the whipped burrata in the middle of your favorite plate, spread it out using a spoon until it forms a hole in the middle. Garnish with your chili oil, crispy onions and anything else you think is beautiful and tasty. Preferably coeur de boeuf tomatoes (that I happened to forget in the store this time).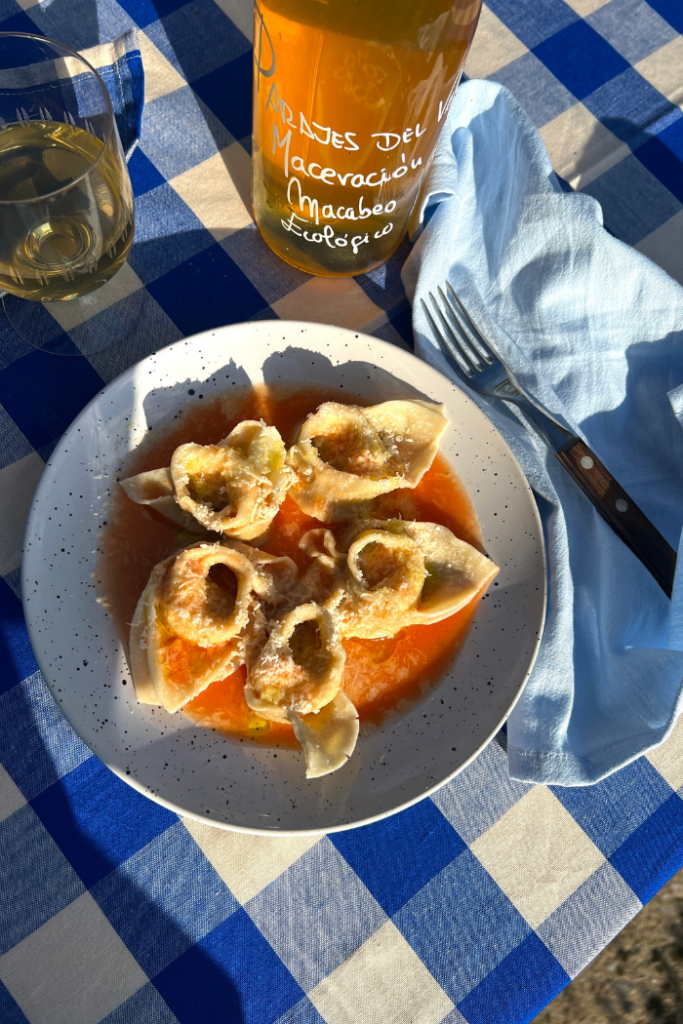 Lemon and ricotta tortelone with fresh tomato brodo
The recipe serves 2-4 people, as a part of a light dinner.
Ingredients:
Tortelone (homemade or bought)
4 big tomatoes
1 tbsp vinegar (white wine or sherry)
1 tbsp salt
1 tbsp sugar
100-gram butter
Olive oil for serving
Parmesan cheese
Method:
1. Chop the tomatoes roughly and put them in a bowl with salt, sugar, and vinegar. Let sit in the kitchen for at least 30 minutes.
2. Mix in a blender.
3. Strain the puree using a fine strainer, put the juice in a saucepan, and bring to a boil.
4. Lower the heat and add the butter cut in cubes wile whisking continuously.
5. Serve with freshly cooked tortelone, Parmesan and your best olive oil.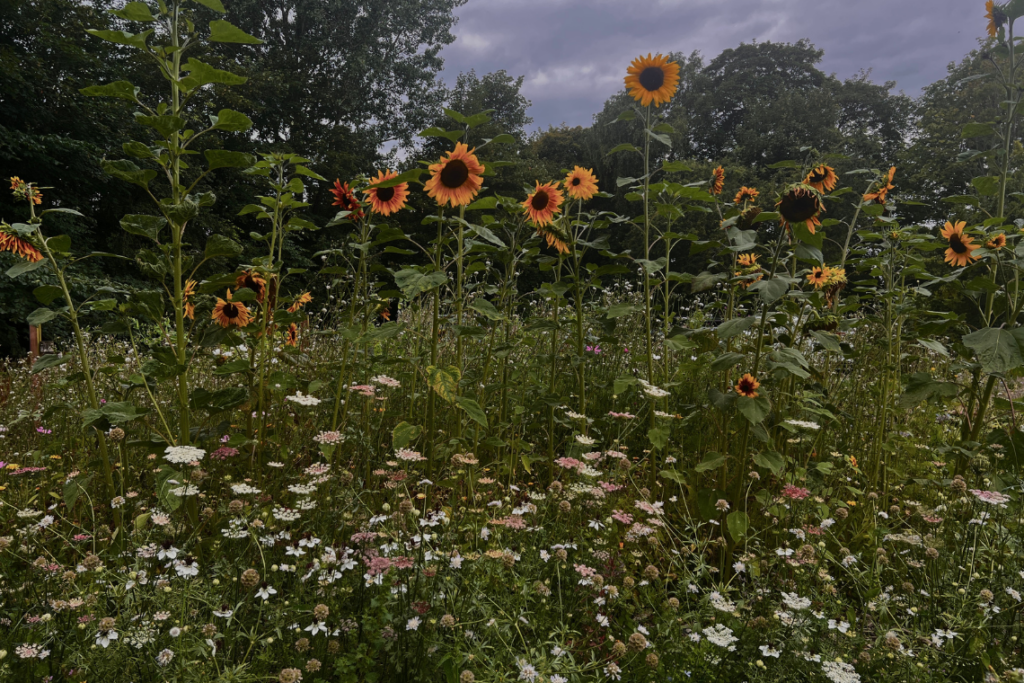 Images and text by Josephine Blix
Shop the look